Caravanning means that you find yourself in unfamiliar places but that is part of the adventure. That doesn't mean that you have to go in blind, though. In today's tech savvy world there are endless mobile applications that can be your helping hand on the trip. Here, we have selected the best mobile apps for caravanning. Some of our favourites are to make caravanning a little easier while the other app choices will enhance your experiences on the road. Read through the apps that we think are the best and see which one could offer the most for your next caravanning trip.
Best Caravan Apps (Our Choices)
Wikicamps UK

Wikicamps UK is a crowdsourced camp site finder that includes a trip planner. It is a useful trip planner because you can download the maps to be viewed offline. No more need to panic when you are driving through an area without signal. Wikicamps will get you to your destination, granted that you have downloaded the map beforehand.
Another reason why we like to use Wikicamps for planning trips is the detailed search function. There are filters that let you narrow down the options to the camp sites that are the best for you. You can filter on the standard criteria such as price and whether the place is dog-friendly but also on more detailed information such as amenities and nearby sight-seeing spots. This search function lets you plan out the trip according to your caravanning needs.
Wikicamps UK is especially useful for caravanning on a budget. You can search for free camp sites and camp sites that take payments based on donation. This lets you cut back on a major cost of your trip. Do keep in mind that the free camp sites will not have all the luxuries and amenities of the more expensive camp sites. That being said, thanks to crowd sourcing the app has a few sites that are hidden gems.
Another step to remember is to read the comments and check the date that they were published. Anyone is able to add a camp site to the map so there might be a few that are not as described. Checking the date on the comments will let you know if the information is up to date.
If you do notice that one of the camp sites in the app does not fit the description or perhaps isn't even a legal camp site, then report it. The Wikicamps team will check its validity and remove the camp site from the app, if necessary.
Other useful features are the satellite finder, compass, home clock and a check list to make sure nothing is left behind.
Free or paid: Free but with in-app purchases
Caravan Buddy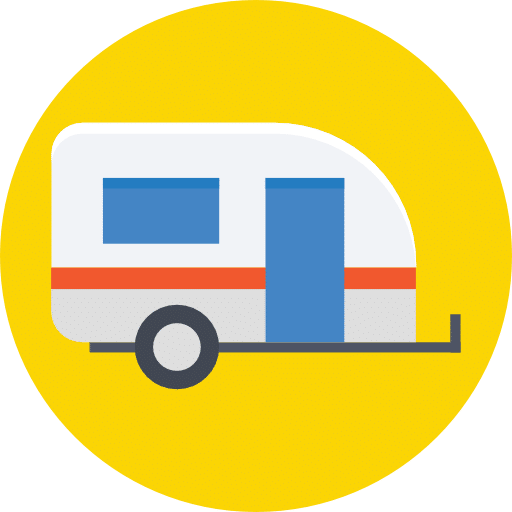 Caravan Buddy is an app that keeps everything you need to know in one place. Its many features will prove the use of the app before you even embark on your trip.
Aside from a camp site and services search function, the app also acts as a storage space for all the important caravanning information. You can upload any important documents into the app so you always have them handy. You can also input details about your caravan such as its make, weight, insurance information and storage dates. This information will be used to set reminders for specific dates such as when to service the caravan or pay for insurance.
Once you have arrived at the campsite there are useful features you can use to get settled in. Caravan Buddy includes a caravan leveller and TV signal finder. You can check whether the camp site space is suitable for your caravan by pulling up the dimensions of the caravan and calculating the weight through the app.
We recommend the Caravan Buddy app for those that are new to caravanning. You will find advice on a range of caravanning topics for on the road, while planning your trip and even for when you are just looking to buy a caravan. There is a lot to think about when embarking on your trip so consider Caravan Buddy your digital mentor for caravanning. The app really keeps together all you need to know so you can have a smooth trip.
Free or paid: paid
AroundMe

AroundMe is basically an upgraded version of the standard maps application already on your phone. However, its interface is easier to navigate which is what you want when you are on the road and need to find something quick. The app lets you find any amenities, sight-seeing spots, accommodation and entertainment in your current area or where you will go on your trip.
AroundMe will display the information using the map app that is already installed on your phone. This way you will not have to learn how to read yet another new type of map. The searched for information is presented as a list or directly on the map, depending on your preference. AroundMe will show you the distance and the best way to get from A to B.
A handy feature of the app is that the search function is quite broad which lets you explore the different options in the area. For example, searching for 'fruit' will not only give you a map of nearby grocery shops but also a list of restaurants that serve fruit on their menu. Of course, the search function also has filters so if you know exactly what you want then you won't have to browse through all the possible options.
AroundMe is a great app to have on your phone for spontaneous trips. If you find yourself at an unexpected stop then you can use the app as your personal advisor. AroundMe is linked to reviews on TripAdvisor and Yelp. If you are undecided on what to do then reading through the reviews could help you make your decision.
Free or paid: Free but with in-app purchases
Spirit Level

Spirit Level is a great completely free app that lets you measure how level your caravan is. It shows a bulls eye level with roll and pitch gauges but also horizontal and vertical bubble levels with an angle gauge.
The app has clear and simple graphics for quick reading. The screen also takes into account the position of your mobile phone for more precise readings. However, do make sure that your phone is laying perfectly flat. Take into account whether the camera at the back of your phone creates an angle. If it does, you will need to place your phone on a surface that corrects for that angle for more precise readings. The app builders suggest calibrating your phone first and then having it touch CAL.
We don't recommend this app if you need a spirit level as part of your toolkit. It is useful for when you go caravanning and you want to check whether the caravan is parked level. However, you cannot use apps for precise measurements in handiwork.
Available for: Android
Free or paid: Free
UK Aerial Alignment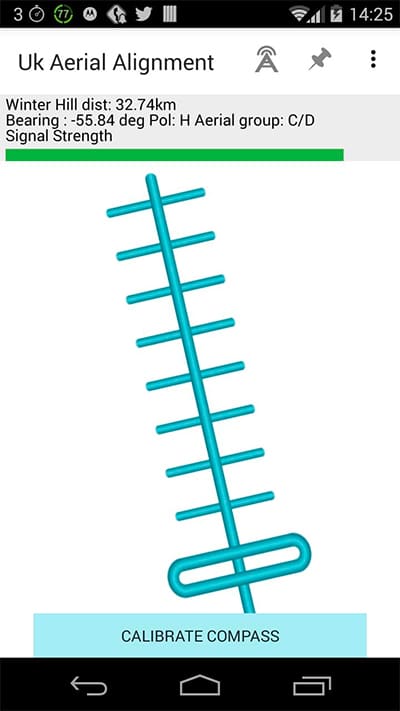 There is nothing wrong with watching telly in your caravan after a long day of driving and activities. The UK Aerial Alignment app lets you relax and watch your favourite series much sooner.
The app is easy to use. Simply lay your phone flat and choose which transmitter you want to connect to. There is a map view on the screen from which you can see which transmitters are in the area. No more struggling with the antenna and shouting down to check whether the picture is clear.
Available for: Android
Free or paid: Free
Sun Seeker

Sun seeker is one of those apps that all sorts of professionals use. It boasts a long list of features but basically it shows you where the sun's position will be at what time of the day. It even shows you with a built-in Augmented Reality (AR) feature.
For someone who is caravanning, the app will help you decide how to park your caravan and which spots are the best. The app will show you how the sun moves over the area using AR. In the summer time you will know where to place your table and chairs in the shade and in the winter you can make full use of the few hours of sunshine.
You can also use the app if you are planning long hikes. Sun Seeker will show you exact local times for sunrise, sunset and the when the sun is at its highest point.
Available for: Android and IOS
Free or paid: Paid
AllTrails UK

If you love to go caravanning then chances are that you love the outdoors, too. The AllTrails UK app lets you explore all the trails for outdoor activities such as hiking, mmountain biking and running. The app lets you filter the options for trails that are friendly for dogs, children and wheelchairs so you can plan your caravanning trip accordingly.
AllTrails lets you get connected to the community. You can read the reviews of other AllTrails users to find out more about the existing trails. Some of the trails were added by other users which means that you can also add your own trail to the database. You can create a profile on the app which lets you follow other users and their adventures using the app.
Alltrails includes a variety of maps from regular streets maps to topographic maps and terrain maps. Each map can be downloaded to view offline so you don't need to worry about signal while you are on your adventure. Even offline, the app will track your movements using GPS which you can then share to your social media later.
Users of AllTrails love the functionality of the app. It is a great way to discover new trails when you are in an unfamiliar area or to explore new trails in parks you've already been to before.
Available for: Android and IOS
Free or paid: Paid
Geochaching®
Geochaching has reached a cult following of people that love to explore. It is no wonder as this app lets anyone of every age feel like an explorer.
Geochaching is essentially a treasure hunt that you can embark on anywhere in the world. The app sends you on a trail to find hidden gimmicks and items. It offers the entire family a fun activity that lets you go sightseeing along the way. It's a great app to have with you while caravanning to new places.
The app includes maps with directions for both walking and driving. You can also receive updates of geochaches nearby as you go along on your trip. Geochaching is truly about going with the flow and giving yourself the freedom to try new things. This is why we recommend the app to anyone who enjoys caravanning because of the freedom that it gives you.
Available for: Android and IOS
Free or paid: Free