Here at Caravan Helper we've spent a lot of time and effort and devoted a lot of space towards traditional touring caravans. However, if you're looking for a cost-effective, smaller or just retro alternative to the standard sized caravan, you may want to consider a teardrop caravan. Although they look like the remnants of a by-gone age, they are surprisingly popular still and extremely practical. If you're interested in investing one, but don't know much about this unique option for road trips and life on the road, you've come to the right place. We've put together a comprehensive guide that covers everything you could want or need to know about teardrop caravans.
What is a Teardrop Caravan?
Let's start with the basics. A teardrop caravan, otherwise known as a teardrop trailer or camper trailer is a compact, streamlined and very lightweight touring vehicle. Its name, as you'd probably guess, is derived from its unique teardrop design. Teardrop trailers are mini caravans that have just enough space for two adults to sleep in and basic, very minimalist kitchen features towards the rear. Though the actual features and facilities you get in a teardrop caravan depends on the brand and model.
30's to 60's
They first came to prominence during the 30's, when the plans for this style of tourer were featured in publications like Mechanix Illustrated, an American printed publication. In the beginning, the first designs consisted of 4 x 8-feet plywood sheets with spars constructed from hardwood. They continued to be popular right up until the mid-60's and then they dropped out of mainstream camping. IT's worth noting that although were not the mainstream choice for caravanners and campers, there was still a dedicated following and many people looking for that iconic and nostalgic design were drawn to them.
Resurgence in the 90's
There was another resurgence of interest in them during the 90's and sales increased of branded teardrop trailers and people started investing in their own DIY models.
General Size, Weight and Arrangement.
In terms of their size, teardrops tend to have a width of around 4 to 6-feet and length of 8 to 10-feet, with a height of 4 to 5-feet. They normally have wheels on the outside of the trailer body with tyres fitted onto them and covered with protected fenders. As noted, they're exceptionally lightweight, weight less than 1,000-pounds, which means they can, in theory, be towed by just about any vehicle, including small cars and even motorcycles.
In addition to the sleeping area, there's normally a galley via a hatch that can be used for cooking and food service and they have electrical power and lighting either by a storage/leisure battery or by using an electric hook-up found at caravan and camping sites. We will cover the interior and layout in greater detail later.
Teardrop Caravan Costs
As one of the main factors you will always have to take into consideration when buying a caravan of any size is the cost, it's worth noting that teardrops tend to be very affordably priced. For an example of what you can expect to pay, we've highlighted some of the top models of mini caravan teardrop trailers from some of the most prominent manufacturers.
Turtle Cargo
http://www.teardroptrailers.co.uk/model/cargo/
Price: £7,995
The first option is the Turtle Cargo, which is the company Teardrop Trailer's entry-level and cheapest model. This mini caravan weighs just over 700-pounds and measures 12-foot by 6-foot with a height of just over 5-foot. As the name suggests, the Cargo is designed with the purpose of transporting things. With the addition of a mattress it can make for a very tight, but functional 2-berth caravan. There are more feature-filled models, but this at least gives you an idea of the kind of low price you can expect to pay for a brand-new model.
Turtle Caretta 1500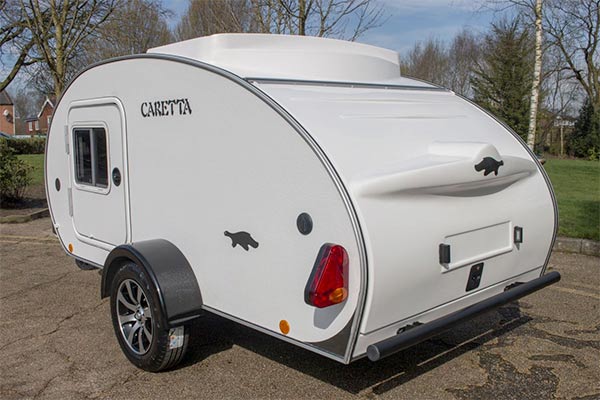 http://www.teardroptrailers.co.uk/model/turtle-1500/
Price: 9, 495
From the same manufacturer a more comfortable tourer option is the flagship and standout model in their range. This has the same dimensions as the above model with the slightly heavier weight of just over 1000-pounds. As well as space for a 4-foot-wide bed (or 1500mm-wide, hence its name), you also get a well-kitted-out galley with a water supply, worktop, cupboards, fridge, sink and stove.
Teardrop Caravans – Hand built to Order
Price: from £2,950
Interestingly, Teardrop Caravans are the leading supplier of teardrop trailers and campers in the Europe and they offer tourers that are built to order for as little as £2,950. For that price you can get a 2-berth caravan that weighs just over 650-pounds! The great thing about this option is the fact that your caravan can be fully customised to meet your preferences and needs. So, you can have uniquely styled windows, a choice of awning, mattresses, the mains electrics and whether the kitchen is at the rear or side of the camper.
Costs Compared to Traditional Caravans
Although a teardrop caravan does constitute a considerable investment. Especially if you are buying a new one. Compared, though, to that of a traditional caravan where the price is often 2 or 3 times that of a teardrop, it's easy to see that teardrop caravans are cheaper. You also must consider the towing vehicle you have. If you plan to invest in a big and fancy traditional tourer, you need to make sure it can be towed by your car, or else you'd need to consider buying a new car as well as a caravan.
With a teardrop caravan though, because they are so lightweight, it's unlikely that you'd need to change car.
Easier to Tow
Are you new to caravans? If you are and have never towed a full-size caravan before and are nervous about doing it, there's nothing to be ashamed of. It can be overwhelming and if you're not feeling very confident, it could put you off investing in a tourer. Given their size and weight though, even if you're nervous and don't feel confident about towing a traditional caravan, you'll find a teardrop is a lot easier.
That is another one of the reasons why they are so popular, because the level of skill required to tow them is not nearly as high. Remember, a teardrop caravan can even be towed by a motorcycle!
More Caravan and Camping Site Options
Although having a large and spacious caravan or even motorhome means that you have a greater amount of luxury and comfort, there are downsides too. There are many caravan parks and camping sites that have size restrictions and pitches that are only suitable for caravans of a certain size. Therefore, if you do have a caravan that is too big, you'll find that there's many locations throughout the country that you can't stop at and stay.
On the other hand, if you invest in a teardrop model, there is very few places where you won't be able to pitch up, and you may find that even some campsites that don't necessarily allow traditional caravans will allow you to park up and stay there.
Camping, Caravanning or Somewhere In-between?
It's interesting with teardrop caravans, because they are uniquely positioned in the spectrum of touring vehicles. Although most would consider them caravans, because of the lack of facilities many designs have, many consider the experience of using one to be closer to camping than proper caravanning.
Although there's often kitchen space or even some washing facilities, you'll probably need to rely on on-site facilities at a campsite or take portable solutions with you. Many of the things you might take for granted as they come as standard with full-size tourers.
Second Hand Teardrop Caravan
We've spoken a lot about buying new teardrop caravans, but that's obviously not the only option you have. As there's a huge market for second hand caravans in general and specifically teardrop designs, you could reduce the price you have to pay significantly.
When buying a used teardrop caravan, as is the case when buying anything second hand, you need to be cautious. Damp and mould are the biggest concerns for any caravan as is the structural integrity of the unit.
That's not to say you shouldn't pursue them, if you don't rush out and buy the first one you come across without properly researching and finding out more about it and the owner. You'll find a used teardrop caravan for sale at the usual places, such as:
Teardrop Caravan Hire
Another option that you should consider, maybe even before you buy a teardrop caravan, is hiring one. If you're sceptical about whether a teardrop caravan would be comfortable enough and provide you with the experience you're after from a tourer, it's better to hire one before buying, as a tester. The average teardrop caravan rental price varies both in terms of where you hire it from, how long hire it for and at what time of the year you hire it.
On average though, you can expect to pay:
£99 to £179 for weekend hire

£139 to £219 for midweek hire

£199 to £279 for full week hire
It should be noted that as the above are just averages, you may find that the price of renting a teardrop caravan is lower or higher.
Some of the best options out there for teardrop caravan hire include:
Habitat Trailers – a great teardrop caravan company that offer vehicles for hire all-year-round with prices ranges determined by the time of year.
Teardrop Caravans – previously mentioned teardrop caravan brand that also offers hire prices throughout the year and at different rates for midweek, weekend and week-long periods.
Teardrop Caravan Interior
So, if you're almost ready to invest in a teardrop caravan, either by hiring one or buying one second hand or completely new, there is one more, crucial thing you'll want to consider. The interior.
How big are they?
We've touched on the size and dimensions of teardrop caravans before, but just to reiterate the point, it depends on the make and model of teardrop, but you will find that most are between 4  and 6-feet by 8 and 10-feet and normally have a height of 4 to 5-feet.
The most common design when it comes to interior and capacity is a 2 berth teardrop caravan. However, if you need something a little bigger, you may find the 4 berth teardrop caravan of your dreams here.
How Many People Can They Sleep?
Only 2 people can really sleep in most teardrop caravans, unless someone is willing to sleep in the seating area, because even 4 berth models only tend to have two single beds.
Facilities
Facilities, again, are where you will find differences depending on brand and model. While some only have the essentials, and basic electrics, others have bathroom and shower space, full water systems and full electrics. It just depends on what you want from your caravan experience.
Teardrop Caravan Accessories
There are always important accessories that you need to buy when purchasing any size of caravan. However, given their size, you may find that a lot of your budget on a teardrop caravan is actual on the accessories. This is because, even if you like the fact that they are so small, lightweight and compact, you'll want to make them as comfortable as possible.
Awnings are one of the most popular accessories for teardrops and these are available in various sizes and styles. This is by far the best way to extend the living and sleeping space of the average teardrop caravan and could mean that a small family could get the benefit of life on the road even with just a 2 berth model.
So, there you have it folks, our comprehensive guide to teardrop caravans. We hope we have given you enough food for thought. In our opinion, here at Caravan Helper, while we understand they are not for everyone, we do see the merit in teardrop caravans. They're fun and quirky with a retro design that's never gone out of fashion and present a more manageable, affordable and just easier option for anyone looking to start caravanning.
If you are after something a bit different, check out our article on pop top caravans.