If you have a motorhome then you know it's as well to have seat covers. You might drive for hours and stop for food – crumbs everywhere. If you tip your drink then your seats will get stained, fast. That yucky sticky mess that happens when coke spills. Horrible.  If you have seat covers you can take them off and throw them in the laundry and they come out clean, and your seats are protected.
But buying motorhome seat covers isn't as simple as picking them up at the shop. You will need to know your seat size, your van make and model. You might need motorhome seats with arms. Motorhome loose seat covers, will they fit your motorhome? Want motorhome seat covers for the front seat only?
You can see that there are lots of different types of motorhome seat covers and so you need to take your time and pick out the right ones for you. To help you do that we have put together a group of chair covers that work for a variety of different motorhomes. So, if you have wanted seat covers for a Fiat Ducato motorhome or Peugeot Boxer motorhome seat covers, we have what you need right here!
Some Seat Cover Choices
1. Motorhome Seat Covers (Universal Fit)

This set contains two seat covers, and I must say they have made the effort when it comes to adaptability. The armrests, for instance have Velcro sides so you can adjust to fit your particular chair. The fabric is of a high quality and it's padded for comfort. The fabric has stretch to make it easy to pull it over the seats. The recommended motorhomes that this seat cover will fit are: Fiat Ducato, Citroen Relay, Hymer, Peugeot Boxer, Ford Transit, VW Transporter, Mercedes Sprint, Talbot.
There are ten different fabrics to choose from, so you can get a chair cover to suit your tastes.
Customers are mostly happy with these motorhome seat covers. They say they fit quite well, however; the preference seems to be to use cable ties to attach it. There are supposed to be clips that come with the set, but a few people have said these are missing. Another person spoke about how the loops weren't quite right for his motorhome. However overall, these seat covers are functional and respond well to washing.
2. Car Seat Pad, Breathable Comfort Front Drivers or passenger seat cover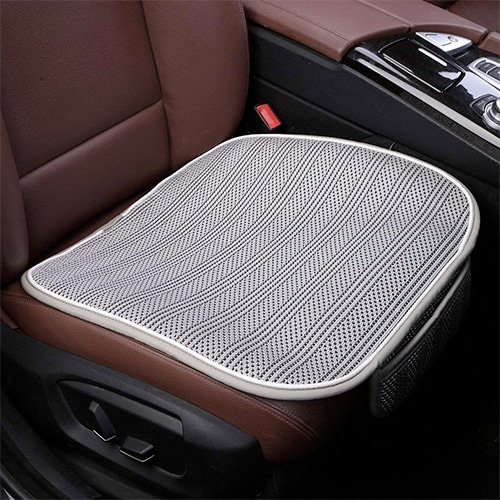 Although this is a little seat cover, it will protect your seat from the inevitable stains and marks. Anyone who has ever tried to eat a sausage roll will know the flaky pastry gets everywhere. That stuff is greasy! So, this will help retain the look of your car seats make them look like new.
The seat pad is made from breathable material with a silk content. This means your seat pad is cooler in summer and warmer in winter. This means you will be comfortable with it on it all year round.
This seat has no effect on the airbag the manufacturer stresses. The seat protector has pockets in for your phone, cable, and keys. This seat pad will fit most motorhomes.
Frankly people think this pad is awesome. Taxi drivers like it because they spend so much time sat in their cabs, it helps with perspiration issues. Everyone seems to like the pocket at the front, and people are really happy with what they have bought. One woman said the piping was a bit uncomfortable and took a while to get used to, but she still recommended it.  Another woman felt it helped her be more comfortable in the height of the seat. It's an all-round favourite.
3. SUITABLE FOR FIAT DUCATO MOTORHOME SEAT COVERS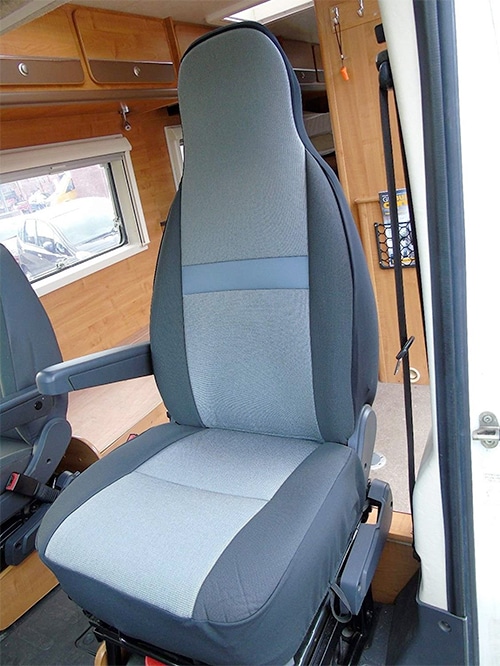 This is a lovely new pattern fabric which is suitable for a motorhome, they call it shades of grey so make what you will of that!  The backing of the chair cover is stretch lycra fabric, so it pulls over the back of the chair like a jumper. It will no doubt improve the look of the seats, and it is washable. You will need to tell the supplier how many arm rest covers you need.
4. Peugeot Boxer seat cover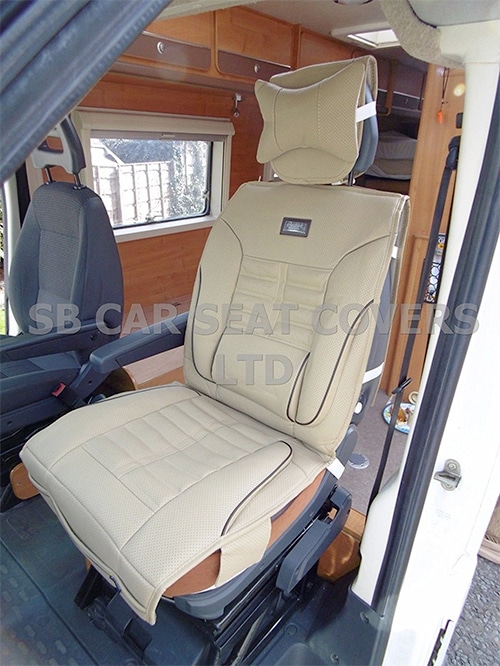 5. Carseatcover-UK® Heavy Duty Fabric Van Seat Covers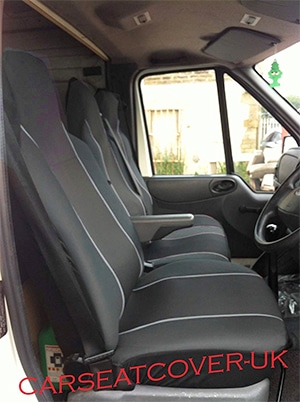 This set contains a single and a double seat cover (three seats in the front of the vehicle) which is made from hardwearing, high-quality seating fabric made in the UK. These seat covers are made for Citroen Berlingo, Citroen Dispatch, Citroen Relay and many other makes of motorhomes.
As always, the problem with one size fits all, is inevitably, one size doesn't fit all. So, if these fit your cab, then you go along and write a great review, but if they don't you give a bad review.
I think the best thing for anyone to do is check to see if there is a review from someone with the same motorhome or cab as you have and check to see if it is good or bad. Because the good ones are really good, customers praise the high quality and the look of these seats and really rate them. If they fit okay, then they are awesome. Otherwise, if they don't fit or don't fit well, then that' all the customer dwells on.
In conclusion, it's possible to get some very nice motorhome seat covers. They are a great buy for people who are a bit messy (that's most of us, then) and who want to keep the seats of their motorhome nice. It's a good idea to have because when you come to resell your motorhome, the seats are something that people notice right away.
It's worth getting seat covers to keep your motorhome seats clean, the investment will give a good return when you sell your motorhome. Even if you don't sell it, when you wash your seat covers and put them back on, you will feel better with your seats looking fresh and clean.