As well as standard caravans, many people also like to try alternative methods of homes on the road. Therefore, in recent years, the micro camper van has become a subject of much discussion in the caravanning community.
Known as the van which you can practically take anywhere, the best micro camper combines the most significant features of both a caravan and a small van. Often referred to as a tiny motorhome, it will usually offer simple cooking facilities, small storage solutions, and seating arrangements that convert into a sleeping area.
In theory, they maybe just a little bigger than that of the average family car but smaller than a Volkswagen campervan. The concept is that there's enough room inside them to allow you to perform the most basic of tasks. This is especially great if you're looking to come back to a place to rest, eat, and indeed sleep after a long day out and about. 
Best Second-Hand Micro Camper Vans
There will be a couple of camper brands that you come across regularly. Here we give you an idea of three of the most popular on the second-hand market, with each one a good contender for best micro camper van 2020.
Citroen Berlingo Mini Camper
The Citroen Berlingo may look like a simple van from the outside, but inside it converts into a genuinely relaxing campervan.
This is usually arranged with a kitchen workspace on one side of the van, with seating that converts into bedding on the other.
Underneath the seating areas, you will often find ample room for storage while the kitchen counter pretty much covers all you need for ensuring a fully functional camping experience.
Renault Kangoo Micro Camper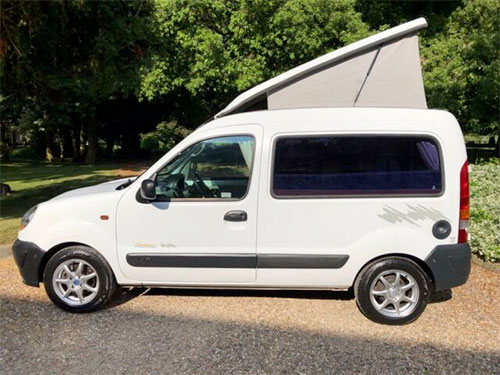 Another firm favourite with micro camper vans, the Renault Kangoo is very similar in both size and structure to that of the Citroen Berlingo.
Once again, most standard models here will offer a kitchen counter unit on one side of the van and a corresponding chair area which turns into a bed on the other.
Vauxhall Combo Micro Camper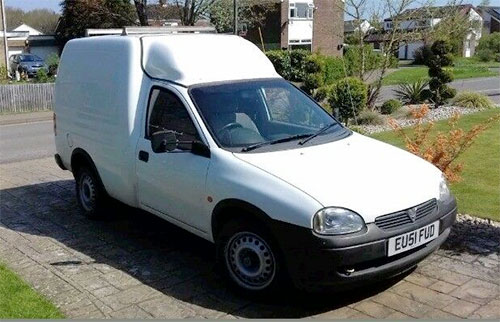 Though visibly different in their shape, a Vauxhall combo offers very similar attributes to both that of the Citroen Berlingo and Renault Kangoo.
These models do resemble more of a van than a campervan, initially, but they also offer more scope when it comes to conversion. Therefore, you will likely find a range of different layouts here, but most will provide that essential kitchen space, seating area, and, of course, sleeping conversion area.
Peugeot Partner Mini Camper
You will have to convert this yourself as it does not come as a camper. We found a great one here. You will be looking at over £400 to have one converted. Most of the ones we saw thought had a pop-top which is always going to increase the cost.
Fiat Doblo Micro Camper
These are not the nicest looking of vans but they really do make a great little campervan. The roof is that little bit taller and they can be picked up cheaper when compared to some of the other makes and models on here. There are quite a lot for sale here on Gumtree.
VW Caddy (My favourite small campervan)
I am a VW camper fanboy so this would be on the top of my list if I had to pick one. They are very popular and very reliable and make a great little campervan. My friend has one that he uses for fishing and I stayed it one time when we went hiking in the Lake District and I was very impressed with it.
Ford Transit Connect
This is similar to most on the list. If you are a ford fan then you will love this model. You don't see quite as many of these converted compared to other models on this list but there's a great one here that we found on youtube.
Purchasing a Second-Hand Micro Camper Van
In terms of the price range for the above microvan types, it will vary greatly, especially when it comes to buying second hand. You may find that you can pick either one of these models up as a basic van, ready to start converting yourself, at just a couple of grand. However, depending on what layout and accessories and features you're looking for, it can mean paying anything from around the £7,000 mark, such as this fantastic Citreon Berlingo went on the market for, to as much as £18,000 or possibly even more.
It's therefore well worth looking around online and in-person because these vehicles do vary greatly, and it can all be simply down to a personal preference of what you'd expected to see in such a van.
Though the exact features in each of the above vans will tend to vary from model to model, especially when buying second hand, you should expect to find as standard in these three vans:
Mains Hook-ups
Sinks
Bench Seats – Most which convert to single or double beds
Also, if you're fortunate:
A grill
A fridge
Hot water
Heating
A built-in water tank
A cassette toilet
A cooker
The Benefits of a Compact Campervan Verses That of Bigger Camper Types
Though such smaller vans won't be to everyone's tastes, there are many benefits to choosing a microvan camper.
Their overall size means you can drive them with ease compared to a bigger camper van. Therefore you can take them down those smaller and tighter of country roads and not struggle as much here. If you've ever driven down a narrow dirt track with a motorhome or caravan in tow, you'll fully understand this predicament! This also means that they can most likely get to those places that many bigger vans would tend to stay away from.
Storage-wise, these microvan campers can be left on the drive or even at the roadside, because of their reduced size. When comparing against the bigger camper vans that may need additional storage solutions, this can mean not just less hassle but considerably reduced costs.
Such reduced expenses extend to running these smaller vans. Whereas it takes quite a chunk out of the budget to fill up a larger camper van, with a microvan, you will spend near enough what you pay when filling up your car!
They are perfect for those overnight stays. This means you can hit the road most weekends and, if you choose to, stay overnight even on a whim. This is as opposed to booking a pitch for your caravan ahead of time and then having to spend time setting up.
Finally, a microvan camper is an excellent van choice for couples or single travellers. Because of their obvious reduction in size, they offer a great immediate solution if either yourself or you and a partner are looking for a quick getaway and are essentially a small motorhome.
Converting Your Own Van into a Micro Camper
If you're interested in buying a small van with the intentions of making it your very own camper van, you aren't alone!
In fact, many people choose to purchase their ideal sized van type and then work on converting it simply because they feel more able to build it to their individual needs and to a high quality. By undertaking a micro camper van conversion, you also allow yourself a more creative licence.
So, for example, if you require more space than the seating area in your van, you can limit the sizes of the furniture and kitchen area. Alternatively, if you'd prefer a more prominent dining or kitchen area, you have more scope here to implement your plans for your travelling needs.
By undertaking your micro camper van build, you can also add those facilities, such as a fridge or even cassette toilet, that you may not automatically find in many second-hand campers.
Our advice here is to look at the market and get the measurement of the vans you're looking at beforehand. Then draw up some plans to see if what you're looking to achieve would be workable.
There are a couple of sites worth looking at online for help here, including those offering campervan conversion guides and bespoke builds, as well as the fantastic Pinterest, which provides micro camper ideas in abundance!
We also suggest taking time to look through the many YouTube videos on the subject, as this is often where you'll find those van owners who started out themselves with no prior knowledge or experience and can take you through their journey step by step.
One great example here is Marina, who owns a Renault Kangoo Micro Camper. Marina's van is called Pam, and you can find her popular channel titled pamthevan on YouTube. Marina is one of many people who have chosen to live the van life full time. This means she's able to offer a lot of wisdom as to the best van layout and practical measures, offering some valuable tips in the process.
However if you'd prefer a more basic conversion type and are looking at a simple sleeping and seating area, this is an interesting video and great example of how straightforward your micro camper conversion could be.
Making the Most of a Micro Camper Day Van
Though more people are contemplating and even attempting the van way of life, it's worth noting that any micro camper van is not the most ideal of long-term solutions. This is especially so if you like your creature comforts when travelling and indeed when enjoying time away from home.
For many, along with the reduced space inside such vans, the lack of toilet and showering facilities means that these vehicles are more suited for those overnight and perhaps weekend occasions.
However, if you're a festival-goer, a hiker, or a fishing fan, then they can often be the best solution when compared to those bigger of vans and caravans. They can be parked in many easy to access places, they are great for getting to those remote of walking areas, are perfect for pitching up near fishing spots and even fabulous to take onto the beach.
Final Thoughts on Micro Camper Vans
If you're looking for a van type that will work with you on day trips and provides a great back-up solution for those times you may need to stay overnight, then these micro vans could just be the perfect solution for you.
Certainly, a fun-loving van, if you enjoy camping, then these really are a significant step up!
However, if you still aren't convinced and find these vans a little too restrictive and limited in their features, you may want to check out another choice and consider a Japanese micro camper.
Though these may also be the smaller of vans, they're all pre-fitted and designed to resemble that of a motorhome. Therefore you don't have to compromise on several features, and you don't have to alternate between sleeping and seating areas.
Ultimately, you get that little bit more of luxury and indeed retain those wonderful creature comforts that some of us caravanners just aren't quite ready to give up just yet.
If you are after something a bit bigger then take a look at our article on the Mazda Bongo.