Are you in the process of looking for a new place to live but unsure if you really want to pay out for an expensive and crippling mortgage or excruciatingly high rental charges? Perhaps you don't really want to feel tied to a fixed address and want to explore, or it's a combination of all of the above. If so, living in a caravan may seem like the ideal solution.
Before you go completely changing your lifestyle and living arrangements on a mere whim though, there is still a lot you need to think about and consider.
As is the case with any major decision, it is a good idea to weigh up the advantages and disadvantages of living in a caravan. First things first, though, you need to think about the legal complications.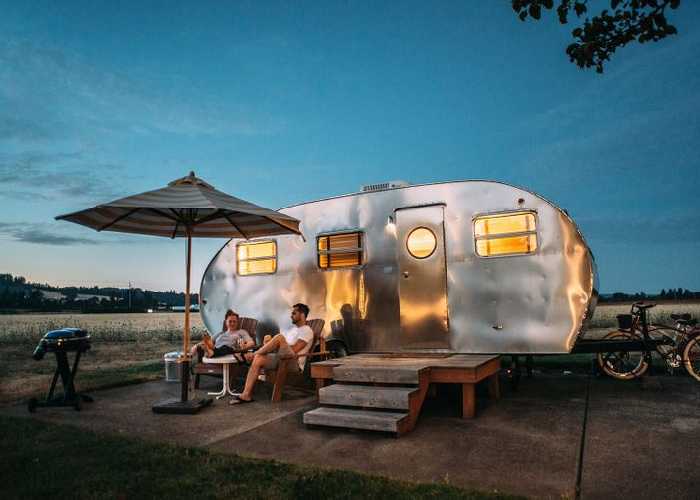 Can You Legally Live in a Caravan?
Interestingly, the answer to this question may surprise you. There is a lot of conflicting information out there, but according to the research we've done, there no law that actually stops you from using your caravan as a main home. There are numerous caravan and camping sites out there that are not open all year round or that have a policy that stops you from living on their grounds 12 months a year. You can still do it though.
The place you choose to do this, if in the UK (and to be honest, anywhere else in Europe), will be in some kind of residential or holiday park and both your own rights and the park owner's rights are fully protected. As long as there is a written agreement outlining the rules, terms and conditions of your residency and occupancy, then you should be fine.
Now that we've cleared up the legal side of things, you are still not quite ready to get that brand-spanking-new caravan (or the used-fixer-upper). You need to think about whether the caravan way of life is right for you. This is where we get down to the real nitty-gritty of our post, by looking at the pros and cons, the advantages and disadvantages, the benefits and the downsides of living in a caravan all the time.
Just because you have fond memories of going to Skegness as a child, doesn't mean you can hack it full-time. Let's keep things positive by looking at the pros of living in a caravan first.
What are the Pros of Living in a Caravan?
So, to really get to grips with whether you will be able to cope with living in a caravan on a more semi—or completely permanent basis, we've put together the following positives.
It's Cheaper to Buy a Caravan Than it is to Buy or Rent a House
Probably one of the single biggest reasons why at Caravan Helper we would suggest that anyone interested in living in their caravan full-time should check out the pros and cons, do the math and give it a go is because of how much cheaper it is. Think about it this way, the prices of private rental properties are reaching astronomical rates in some areas and despite the demand for social housing, there is a real shortage of it.
When you consider the way interest rates are going, for many their hand is being forced to find alternatives. Alternatives like living in a caravan. Some even moderately comfortable and modern properties cost in the region of, if slightly lower than £100,000, whereas a budget caravan may only a fraction of that and for a really good one, top of the range, it would still be less expensive.
Further to that, you are not hit with the irritating stamp duty and while you will need to pay VAT when you buy your caravan and an annual charge for the benefit of pitching it up throughout the year at a site, the overall cost will still be cheaper for this setup than a traditional home.
It's Cheaper to Live in a Caravan than it is in a Traditional Home
Further to the above, it's also a lot cheaper to live in a caravan than it is a conventional home. For starters, you are exempt from council tax as the caravan site and park owners are charged the council tax equivalent for the number of pitches there is at their site. This is passed back to you in the form of a nightly combined charge. It's not quite the same, however.
You can also save a lot of money on utility bills, as your caravan will be predominately powered by electric hook-ups on sites you are staying at, which is again included in your daily/nightly pitching fee.
You will likely have a dual fuel kind of heating system, and if you are not thinking of getting one, why not? This means you could, in theory, have that powered by either electricity or gas, while your fridge (for example) is run on 12v electric battery, 240v electric hook-up or gas too. The very fact you will be using bottled gas means you will save dramatically compared to the price of gas from the national grid.
Nix Fixed Address or Postcode
This is the main reason anyone tends to look at the prospect of living in a caravan – not having a fixed address or postcode, or to put it another way, not being tied down to a specific place or part of the country. Living in a caravan can give you a level of freedom you may never have experienced before.
Sure, you will need to be smart about what you can and can't take with you, but less storage space is a small sacrifice when you have the open road and all that the countryside of the United Kingdom and beyond has to offer to you, waiting for you to experience.
Life Can Quickly Become One Fun and Exciting Holiday
As we've already highlighted several times a huge part of the attraction to caravanning in general, is that ability to get out there and explore the wider world. When you make the switch and choose to live in a caravan full-time, that holiday spirit can continue. Particularly if you have a profession that doesn't require you to have a fixed address, you could earn while you travel.
What Are the Cons of Living in a Caravan?
Okay, in the interest of trying to present the fullest picture possible, we are going to look at some of the more negative aspects of living in a caravan. While these are not all cons exactly, it is important to factor them in, rather than getting carried away with all the good things.
You Need to be Very Organised
The idea of just getting out there on the road with your caravan in tow might sound so freeing and spontaneous, but the truth is if you are going to even consider living in your tourer for any length of time, you need to do a lot of planning. Particularly when it comes to the problem we highlighted earlier of storage.
This doesn't just mean organizing your kitchen, pantry and clothes, everything.
Clothes
Are you the kind of person who takes a very laidback approach to laundry? Do clothes linger on chairs or sofas at home when you take them out of the dryer or off the airer or line? You don't have that option in a caravan, because safe is available at such a premium. Everything needs to be put away as soon as you can, or it can quickly feel claustrophobic.
Another issue with clothes on the road is switching from autumn and winter garments to spring and summer garments. While you may not have given this much thought at home, because you had plenty of wardrobe and drawer space, on the road, it's a different matter completely.
As the main storage is so small, you will need to store the season's clothes that you are not wearing elsewhere, where they are not in the way. Under the bed or somewhere similar.
Need for Perfect Meal Planning
It's not only important in the kitchen cupboards and pantry of your caravan that you keep everything neat and tidy, but it's also important to plan out your meals more meticulously. Without that fridge freezer and cupboard space, you are perhaps used to at home, you need to just buy products you are going to use in the next few days.
Regular Caravan Maintenance is Essential
We're not really sure that this is a downside as such, but it is something you need to factor into your decision about whether full-time caravan living is for you. As your caravan is not just your living space but part of your transportation, you need to stop on top of the maintenance. While proper car maintenance is clearly a necessity in normal property living for day to day life, there is an extra sense of importance for it when your car is also responsible for towing your mobile home.
When you don't stay on top of maintenance, regularly top up the oil, assess tyres and other checks, life on the road can get more expensive, trickier and just difficult very quickly.
You Will be Spending Lots of Time with Your Travel Companion
Whether it's your family, just the love of your life or a sibling or friend you are hitting the road with, you may think you will be able to handle spending most of your time with them but are you really sure.
Especially if it's your partner or spouse, where there is a good chance you could be spending most, if not all of your time together. This could be a real test for your relationship. Obviously, there are things you can do, not just by making sure you both have the right attitude towards each other – being kind and considerate, but also by making time to do things separately.
When the weather is great, this is not so much of a problem because you can both go off and do your own things. When the weather is not so pleasant, however, and you need to stay indoors, that's when it gets complicated.
We are in no way, shape or form suggesting that this is a deal-breaker, but it is worth thinking about and preparing for in advance of moving into your new, smaller and more compact home together.
Clearly, there is a lot of good and bad aspects of living in a caravan that you need to consider. In our humble opinion though, it's more about whether for you personally (as it is a completely individual decision and all about your preferences), the positives outweigh the negatives. And that you have the right kind of attitude for when the negatives come along.
If you do decide to live in a caravan, we hope it goes well and please let us know what it was like for you.