One of the most important parts of caravanning is having a working fridge. We need to store food, so it doesn't go off. Some people might say a decent bed is more important, but no-one these days would put up without a fridge in their homes. Also, it is vital that we have them in our home from home, our caravan. How else are we going to have milk for our morning cuppa? Milk for our cereal?
Keeping food fresh is vital for the enjoyment of our holiday, which makes it all the more annoying when the fridge isn't working. However, many fridge problems can be sorted with a reliable spare part, so here we take a look at a range of common issues and how to sort them out.
Dometic is part of the Electrolux group of companies, with Dometic being their leisure department. Electrolux has been a great American company since the 1920s and continues to be successful. It was floated on the stock exchange in 2015 and continues to enjoy growth. Whether it's long-distance lorry drivers who need fridges in their cabins or part of a growing number of people who want to live mobile, then Dometic products are there with style and imagination. Catering to the wants and needs of a popular sub-culture, Dometic products are here to stay.
Dometic Fridge Parts That People Need
1. Dometic Fridge Freezer Compartment Hinge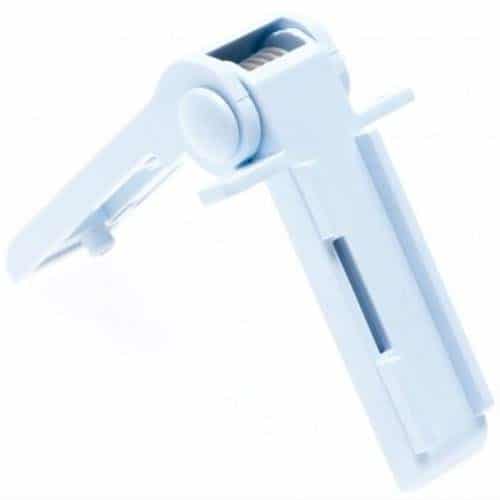 This is a genuine Dometic hinge for a fridge freezer compartment. It's white, so it goes with the fridge. This particular part will fit Dometic fridge models:
RM/S 8400/01/05/60/61/85
RM/S 8500/01/05/50/51/55
RGE 2100
The part number is 2412125011, and the hinge size is 8cm x 2.4cm
This part is very easy to fit and fits perfectly with the fridges with the code numbers shown. It's an easy job, fortunate when we rely on our fridge so much.
2. Dometic Winter Cover Set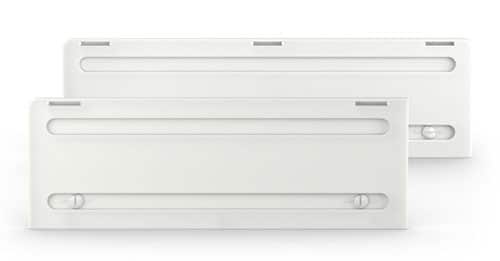 This product fits fridges LS 100/200.
This is a Dometic cover set for covering the fridge when it isn't in use during the winter. You don't remove any covers from the fridge, just screw this into the vent at the back and your fridge will remain protected all winter long.
Some people caravan all year round and find that during the winter months there is a draught from the fridge. This winter cover set stops all that, as well as protecting your fridge from any bits of dust or debris that may enter the vent. It's suitable when the temperatures are below 8 degrees centigrade.
Since it is just a matter of screwing the vent covers in place, it is a very easy job, as one buyer commented: "set and forget".
It's available for single or double door fridges and it's one of those items that protect your fridge and your caravan or motorhome.
3. Dometic / Electrolux fridge door lock fixing kit

This kit contains what you need to fix the lock on your fridge freezer. What happens is the door gets shut accidentally when the lock is in position, which breaks the lock. Some people figure they just need the sliding part to overcome this problem but no, you need the whole kit.
That said, it isn't too technical to fix, and there are videos on YouTube that can help you do the job.
PLEASE NOTE: This is for fridge 7607
4. Dometic RM6 Series Fridge Door Lock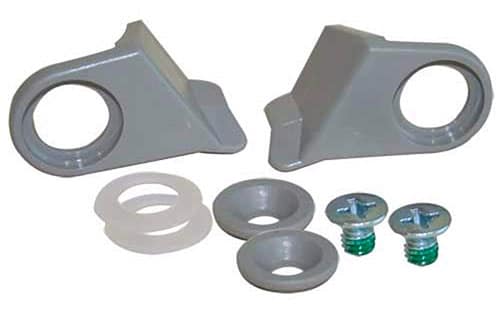 As above, this is for your fridge freezer door. It's actually for the freezer compartment. Your teenager (why not blame them) leaves the freezer door open and tries to shut the fridge door. Crack! You need to fix it. Each side of the door, where it hinges, could need replacing. Each side is slightly different and specific to its side, so take care to make sure you fit the right one to the right side.
PLEASE NOTE: This is for fridge type RM.
5. Dometic Fridge Freezer Sliding Door Lock Slider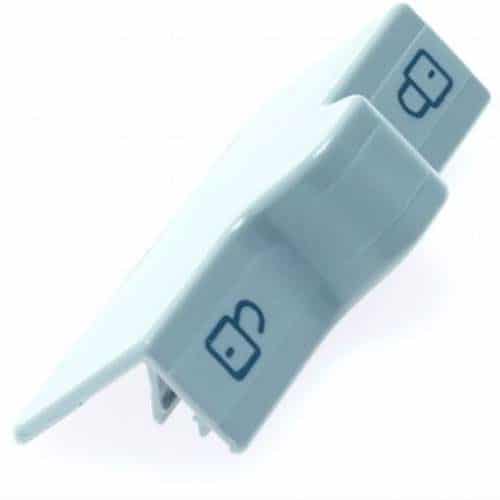 When you are driving the last thing, you want to hear is your fridge door opening and your breakfast eggs crashing and sliding round the caravan or motorhome floor. That's why you need a lock on the fridge.
It is worth mentioning that, although the picture in the description has a clear unlock/lock image on it, the manufacturer no longer supplies the lock with the images. It comes in the grey colour shown.
However, buyers say it fits well and does the job.
PLEASE NOTE: This is part number 2412883908, please make sure it is the correct lock for your fridge.
6. Dometic / Electrolux fridge door lock fixing kit for caravan & motorhome fridge

Locks on fridges are very important when you are driving about in a vehicle. To me, it's vital because is there is one thing I hate cleaning up, it's raw eggs. The thought of my eggs flying out of my fridge and having to clear them up…. well, it is horrendous. Of course, it's less bad if you have a dog. Dogs love eating raw eggs. I guess you could find someone with a dog to help you out but, truthfully, it's better to just put a lock on your fridge.
PLEASE NOTE: This lock fits fridges numbered 7805.
7. Dometic Fridge Turning Knob

This is a knob for a fridge, to increase or decrease fridge temperature. I cannot imagine how this gets broken, to be truthful. Perhaps it just comes off and children pick it up, play with it and lose it? Whatever happened to your old knob, you can get a new knob.
This knob fits fridges numbered RM7271 and RM7291.
So, if you have a Dometic fridge in your tourer, you will want to look after it properly to make sure you get the best out of it. In the guide above, we have highlighted some of the main spare parts you will need at some point in time. Even if you don't need them right now, it may be worth bookmarking this page for when you do.