Are you interested in hitting the road with your family, for an alternative to staying in traditional accommodation and having a fixed holiday location? If you still want to have your creature comforts from home with you, then a caravan may seem like the obvious choice. It may be obvious, for sure, but it is not really the only option out there. There are some serious benefits from opting for a trailer tent instead. As they cost a lot less upfront and are less hassle tow.
As there are clear benefits of both options, and both offer you the opportunity to get out on the open road, it would be wrong to dismiss one over the other without giving them proper consideration. Therefore, to give you some guidance and help, in the following post we are going to discuss the pros and cons of each.
By contrasting and comparing trailer tents vs caravans, you will find it much easier to choose the right one for you, your needs, circumstances and family.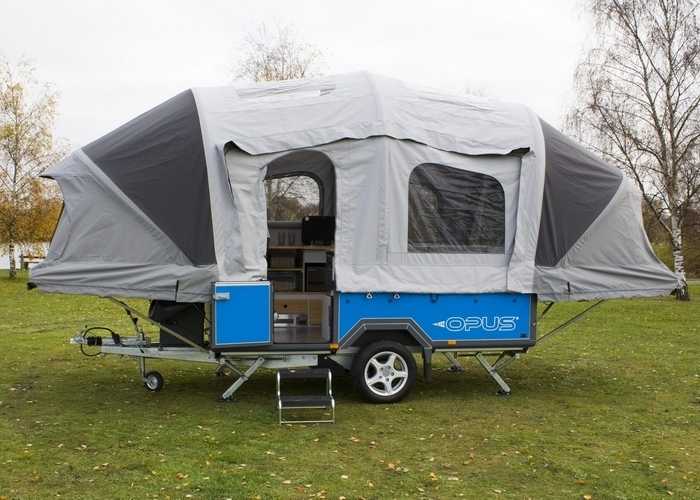 Costs
We would not recommend that you make your decision of whether a caravan or trailer tent is best for you on the cost alone. However, it is still worth calculating which is going to be most expensive in the long run. If you are looking to buy a new tourer, you could expect to pay something in the region of £15,000 for a 4-berth caravan.
That is obviously a rather big investment, but with the right insurance policy and agreed price, you could really benefit from great returns if the vehicle lasts a long time.
If you decide to buy a second hand and carry out work on it or a refurbished caravan, it will cost you a lot less. However, a vehicle that has been used extensively is not nearly as reliable as one that is brand new.
On the other hand, a brand-new trailer tent may only cost you approximately £2,500, a small fraction of the estimated cost of a caravan. Given that they are incredibly portable, versatile and that lower price tag, it's easy to see why you might want to opt for a trailer tent. The insurance premiums for a trailer tent also cost considerably less than the same coverage for a caravan, with many policies being available for an extremely affordable £50. That is to provide cover for both the trailer itself and all associated equipment.
Storage
The next consideration you should give when comparing caravans to trailer tents is storage. Given that the average trailer tent is significantly smaller than a caravan it is obviously a lot easier to store away. You can, for instance, store one in a garage or even to the rear of your property more easily than a caravan.
Whereas with a caravan, due to its dimensions, there is only a limited number of places you can really store it. As it is not safe to store it in front of your home or on your driveway, because thieves are most likely to steal tourers from either motorway service stations or the owner's home, you would need to invest in caravan storage when it's not in use.
Ease of Use
How hard or easy it is to set up and use a touring vehicle will determine how easy your time on the road will be. For instance, with a caravan, there is enough space to store things in cupboards and other units and once you have connected to the power supply of any site you visit, you are good to go. You can basically, once you've packed everything into the car and the tourer and the family are in the car, hit the road.
A trailer tent can, sometimes, feel a little trickier to set up and use. There is some pegging out that are involved in setting one up before hitting the road. However, most modern models are very sophisticated and really designed to offer convenience. Consider ones like the SunnCamp inflatable trailer tent or even the all-in-one style Camp-let family of vehicles and you will find portable accommodation that is incredibly easy to set up and use.
Family Size
You obviously want to ensure that all the people you want to join you on holiday will be catered for in the tourer of your choice. Do all members of the travelling part need a solid and proper (or as close to proper as you can get) bed? In that case, a caravan may be the best option. Let's use a family of four as a working example.
With a traditional 4-berth caravan layout, there will normally be a fixed-position double bed located towards the back of the vehicle and a room or area sectioned off with a door that gives the parents a degree of privacy. At the front of the vehicle in the lounge, there are often two sets of seats that can be converted into single beds – perfect for children or other travellers.
What if you have a much bigger family, though? You may want to consider a five or even six-berth caravan. In these, the layout allows for a more generous offering of bedding options including convertible seating areas in the lounge area, fixed-position beds and often bunks that flap down from the top of walls or even the ceiling.
Do you have younger children and want to give a real adventure camping out under the stars? Even if, as parents, you are a little reluctant, you may be surprised how trailer tents offer the best of both worlds. Many are designed to transform into a very spacious sleeping and bedding areas. You can even invest in trailer tents with additional areas, which are perfect for increasing your covered living space or make handy bedrooms for any guests that you join you on your adventures.
Ease of Towing
Whatever you choose, it should go without saying, you need to be sure you will be comfortable towing. This is why many families opt for trailer tents, because of their much lower weight and streamlined size. Beyond whether your nerves will be able to handle towing a specific type of tourer or not, you need to always choose the caravan or trailer that matches to the towing limits set by the manufacturer of your towing vehicle.
Again, this is why trailer tents are often more popular with families with small hatchbacks, as they are generally fine to be towed by vehicles that small. It's only when you start looking at caravans that you may find you also need to look at investing in a new car if you are not sure your current vehicle will be able to safely and easily tow the caravan you are interested in.
Summary
To conclude, it would be very easy for us here at Caravan Helper to choose one or the other. We are not going to, though, as we don't really think there is a clear and outright winner. There are distinct advantages to both trailer tents and caravans.
Unfortunately, if you were looking for us to make the choice for you, we really can't, as it will depend on what matches your needs and requirements best. The above guide, however, should help you come to the right choice.