You can't beat a nice cup of tea and a slice of cake, and England has long since been renowned for its twee tea rooms and love affair with afternoon tea. There's even an official "Afternoon Tea Week," which this year will take place from 12th to the 18th August.
But where does one go for to whet their whistle? Of course, you could dress up to the nines and waltz your way to the Ritz, or another suitably swish hotel. Or you could opt for a cooler, quirkier option. Ladies and gentlemen, step this way – it's time for tea, and to explore some of the best touring caravans, that just happen to be tea rooms too!
Caravan Tea Rooms
Tilly the Travelling Tea Room
Billed as "more than just a caravan" and as "the vintage party venue that comes to you." Tilly the Travelling Tea Room is an authentic Thomson Mini Glen caravan, manufactured in Falkirk, Scotland back in the 1960s.
Following careful restoration Tilly now boasts a petite (but perfectly formed) kitchen area where guests can be catered for. There's also a pretty seating area, complete with period fabrics and cosy cushions, plus a canopy that can be attached to Tilly (providing shelter from our wonderfully unpredictable British weather).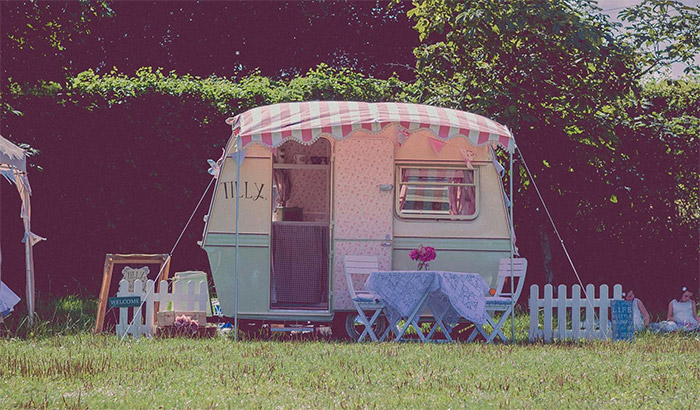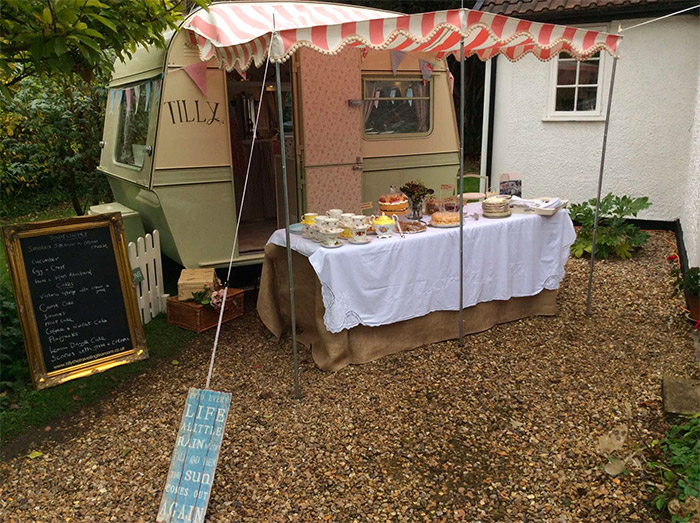 Tilly has been brought to life by owner Carol Corfield, who's experience in hospitality and passion for cooking shine through. An accomplished home cook, Carol thankfully decided to extend her culinary delights to the paying public. Now she throws vintage tea parties, where hungry guests devour delicious home-made sarnies, tasty cakes and scones smothered with cream and jam (or is it jam and cream?). Everything is beautifully served, via pretty vintage plates and cups, laid out on exquisite linen tablecloths.
Tilly is a busy tourer – she is also used to cater for corporate events, drinks receptions and weddings (Tilly even doubles up as a photobooth complete with props)!
Bessie the Caravan
Bessie's owner started out by identifying her passions – friends and family, baking, and throwing parties – and she then decided a vintage caravan would be the perfect setting to combine all of her favourite things. Hence, Bessie the caravan came to life.
The 1960's two berth Cheltenham wasn't in bad shape when it was collected from it's previous owner. The exterior had been restored and the interior had been tidied up too, so it just fell to Bessie's new owners to make her into the pretty picture she is today. Nowadays Vintage Clarke and Clarke fabrics cover the seats and the cushions are from the queen of shabby-chic Cath Kidston.
Bessie spends her days off lounging in the Kent countryside, but she's got a lot on and can often be found playing an integral part at events, weddings, photo shoots, birthday parties and of course, the classic afternoon tea. The owners offer a wonderful afternoon tea for guests – complete with pretty bunting, lovely linens and vintage china. Oh, and we certainly must not forget the lush home-made cakes. Why not indulge a little more and opt for champagne and cocktails too?
Henny's Vintage Caravan Event Hire – Hector the Vintage Tea Room
Meet Hector, part of the vintage caravan posse lovingly put together by the owners of Henny's Vintage Caravan Event Hire . Once upon a time Hector was a four berth Sprite Alpine, but nowadays he spends his time entertaining delighted guests, as a vintage mobile tea room. You might not believe it but Hector can cater for up to 200 guests! Offering up such delights as ploughman's lunches, tasty soup and the staple home-made cakes and scones that are synonymous with a typical English afternoon tea.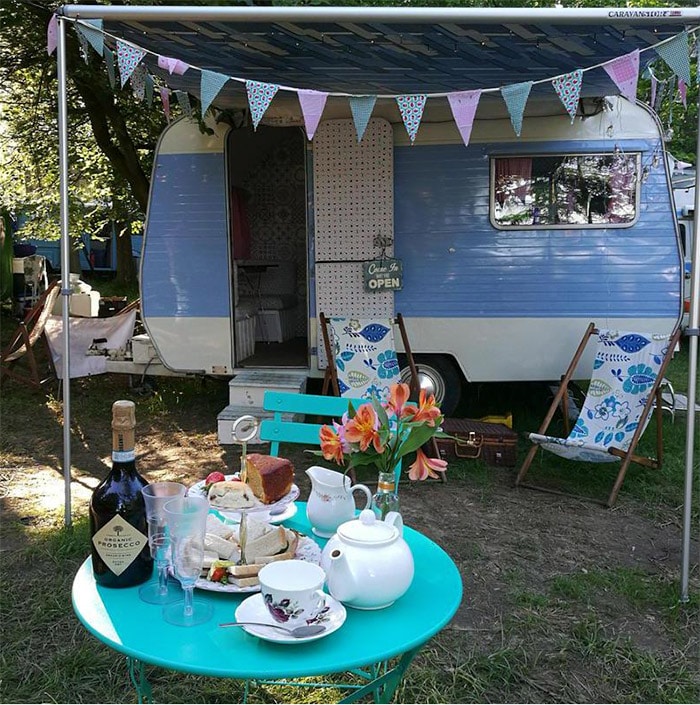 Hector is at home in any setting, he will happily sit in a large field, enjoying the sun as he serves hungry and thirsty guests, or he can provide a stunning contrast – parked up at a contemporary company ready to entertain corporate clients. He's a versatile tea-room tourer and oozes old-school glamour that will no doubt charm tea-drinkers everywhere!
Vintage Dotty
Vintage Dotty reputedly likes to steal the limelight – as she's a "fabulously fun and irresistibly unique catering caravan." We can certainly see why! Dotty is as cute as a button. She's a 1960's catering caravan that's decked out in chintzy bunting (and there's a rumour she makes the best espresso in town) – don't worry, she does a mean cuppa too!
Dotty's owner has fond memories of Portobello Road, where she would help out on her father's stall and admire the eclectically dressed customers and stall-holders. Watching in awe as they paraded their newly bought oversize fur coats and vintage handbags. Thirty years on Dotty was purchased, providing her owner with the perfect opportunity to inject a little of that eclectic charm and vintage allure she found so appealing.
Dotty is a laid back tea room, serving up appetising homemade fare that's fresh and local (and where possible organic). You can expect dainty finger sarnies, classic scones and even award-winning gluten free cakes. You might find Dotty chilling at a festival, or gracing a wedding, and her owner has even mentioned that one day she might even take her to visit Portobello Road.
Brew and Stir – The Travelling Tea Room
Based in the Newmarket area (but, as the name suggests – happy to travel), Brew and Stir is a charming travelling tea room that caters for all sorts of occasions. From weddings and christenings to hen parties and traditional vintage afternoon teas.
The idea to create a travelling tea room came to fruition in January 2016, when the owners found and purchased a caravan that needed plenty of love and attention. Fortunately, they were able to offer both, and after hours of hard work and gallons of tea the transformation was complete.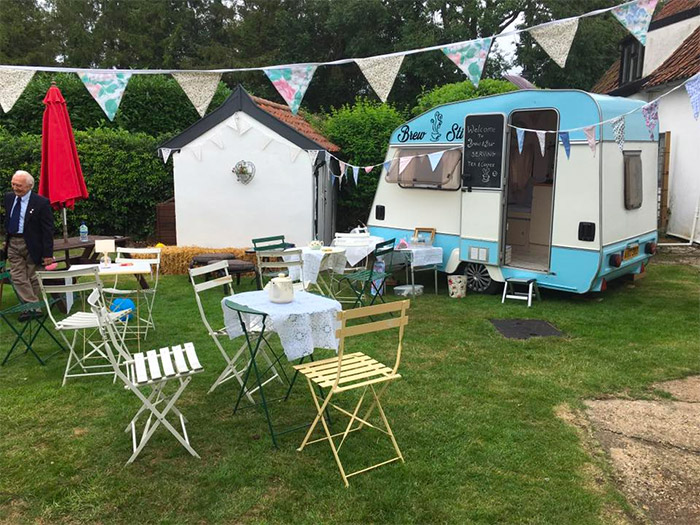 Nowadays the old-fashioned feel is a real hit with customers, who enjoy sipping tea served from this lovingly restored and unique tea room. Parties are catered for depending on the needs of the individual, and there are a whole host of props available for hire that can really add a special touch to proceedings.
Elsie the Vintage Caravan
Elsie the vintage caravan is described as a "pop up" 1940's tea room, the perfect vintage tea party accessory – offering bespoke events and catering. Owners Rosie and Phil have a keen interest in the 1940's and have tailored their caravan "Elsie" to showcase the era perfectly.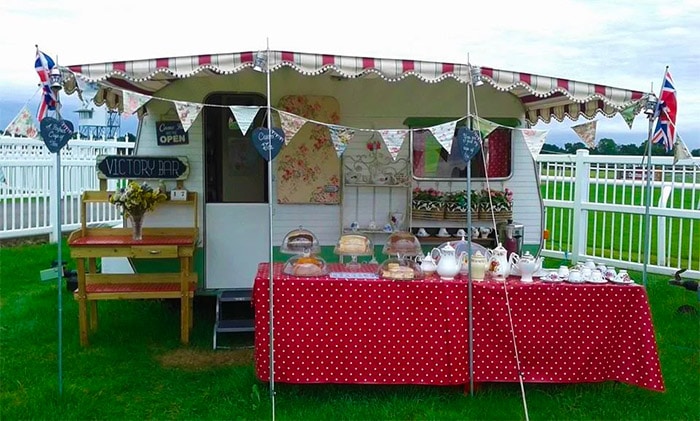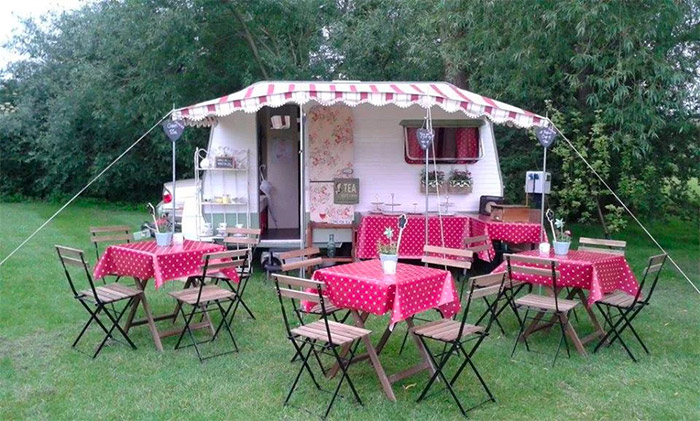 Lovingly restored, and very pretty Elsie is a Sprite Caravan that's had a great makeover and now has an air of nostalgia. Enjoy the delectable cakes and a leisurely afternoon tea (presented on vintage plates and in vintage cups of course) at your own private event. To top thing off tea is served by staff wearing matching charming vintage style garments. Elsie also serves as a great backdrop for photographs.
Kettle and Cake – Vintage Caravan Betty
Kettle and Cake enjoy nothing more than serving up traditional (and absolutely delicious) scones, cakes and biscuits – all homemade of course! You can wash it all down with coffee, soft drinks, and of course a cup of tea or three! Kettle and Cake also love a bit of bespoke baking, they serve up some very creative bakes and like to wow their guests.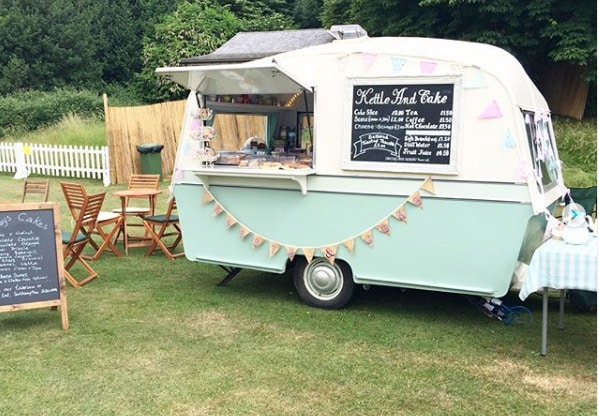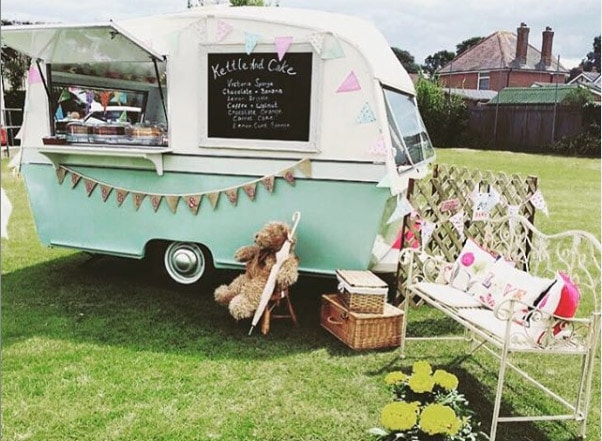 You can hire their lovely vintage caravan, known as Betty, to take centre-stage at your event. This might be a wedding, a special birthday party, christening, garden party or a corporate bash. Betty offers a welcome change if you're seeking something different, and the owners will gladly create and deliver bespoke afternoon teas that will impress you and your guests.
Betty has come a long way, she started out as a compact four berth touring van (built in 1970). When husband and wife team – Pat and Helen, sourced her, Betty still had all of her original fittings and fixtures still in place. She's undergone a stunning makeover, and now travels the South Coast resplendent with her new look!
But indeed, I would rather have nothing but tea – Jane Austen
Tea can warm your heart, soothe your soul, and cheer you up. Add to it a slice of lovingly made cake, and you have the components of a perfect afternoon!
The idea of taking a standard tourer and turning it into something as special as a tearoom is such a marvellous notion! The concept becomes even more special when you add in that some of these tearoom caravans were once neglected, being kept in old barns, or stored away and generally forgotten about. 
Their new owners have injected TLC and passion into their caravans, lovingly restoring them and giving them a new lease of life. They have spent time and money sourcing materials, looking at different styles and painstakingly working to bring about the stunning transformations that have taken these traditional tourers to a whole new level.
Anyone for tea? Milk and one sugar for me please, and let's raise a cup to the owners who have dedicated their time to create wonderful caravan tearooms to be enjoyed by us all.