It's true that caravans offer you the freedom to get away from it all, to enjoy the open road and explore the countryside. All that freedom comes at a cost, though, and that cost is the compromise on space. Even the most luxurious and comfortable caravan does not offer the same amount of space for storage, as a house does. This means you are always left with the issue of where you are going to keep all the stuff you need and want on holiday without you, while still being able to navigate safely around your tourer and keep it the comfortable haven you want it to be.
Obviously, one solution would be to reduce the amount of stuff you take with you, but if that's not an option, you could do what a lot of people do and invest in a caravan storage shed. In the following post we are going to look at several great options. While most of these have not been designed with caravans specifically in mind, they do provide you with covered storage space for those items you don't really have enough space for in your touring vehicle, such as bikes, BBQs and so much more.
Caravan Storage Sheds (Some Great Choices)
1. Keter Store-It Out Midi Outdoor Plastic Garden Storage Shed, Beige and Brown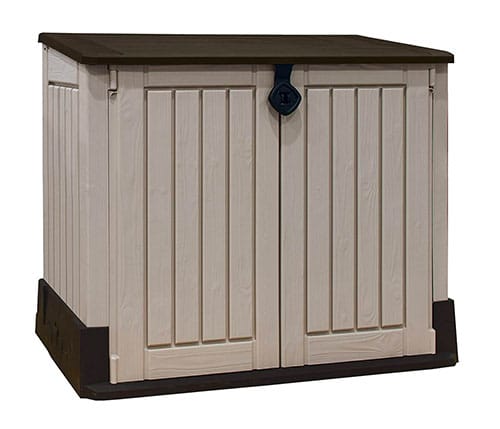 The first product in our guide is from the highly reputable and popular brand Keter. A company who have been operating for more than 70 years, designing and manufacturing high quality and truly innovative products to help people, like you, get the best out of space in their houses and gardens. Their storage sheds are a great example of their dedication to durable, practical, but also stylish solutions.
We are going to discuss a number of their great storage options in this post. First up we have the Store-It-Out Midi storage shed that is perfect for both use outdoors and indoors. It is built using weather-resistant and durable materials and can hold 845-litres and has shelf support built into the interior. The great thing is that it doesn't require much maintenance and will only fade a little over time.
Rather requiring a complicated setup, Keter have ensured that this shed is very easy to assemble. I addition to the separate shelves you can buy for the shelf supports and the unit's door can be fitted with a lock that you would need to buy separately.
2. Keter Store-It-Out Max Outdoor Plastic Storage Shed, Beige and Brown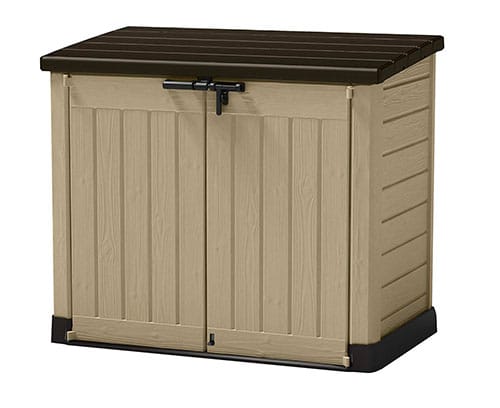 This is a bigger version than the one above from Keter. It offers 1200-litres capacity for storing all those things you don't want to keep inside your tourer. You get the benefit of the same easy to assemble style with weather resistant and durable materials used throughout. There is a secondary foot bolt alongside the main door bolt for increased security and to keep everything inside neat and tidy.
The materials used are also of the same standard as the above in terms of maintaining and the only deprecation you may experience is slight fading. It is relatively easy to clean, only requiring a light washdown occasionally.
With the Keter brand name on it, you know you that is a guarantee that this is a high-quality product.
3. Keter Brightwood Outdoor Plastic Storage Box Garden Furniture, Brown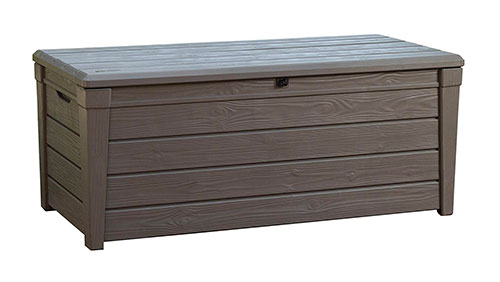 Also, from Keter, this is not quite as big, but still offers 454-litres of storage space where you can keep items you don't really want to keep in your towing vehicle dry and protected from the outside weather, while still keeping them well-ventilated. It has a piston-assisted lid, and this has the option of being lockable for additional security.
It is made from the same high quality, durable and weather resistance materials that require little to no maintenance and won't fade too much over time. What we really like about this storage option is the fact that it doubles as a seating area with space for two adults.
Much like other items in the Keter family of products, this is easy to assemble.
4. Duramax Side Mate Plastic Garden Shed With Foundation Kit, Ivory
From a different brand this time, Duramax, comes this generously sized storage shed. It is constructed from high-quality and very durable vinyl and is the right depth, height and width for a full range of different items, tools and other things you may not have space for in your tourer but want to have with you when you are on holiday. The materials used and the structure are fire retardant, snow and wind resistant as well as also being mildew and fade resistant too.
Much like the Keter options, this has been designed with a handle that can have a padlock fitted to it for increased security.
5. Clifford James Outdoor Waterproof Plastic Utility Storage, Lockable with Adjustable Shelving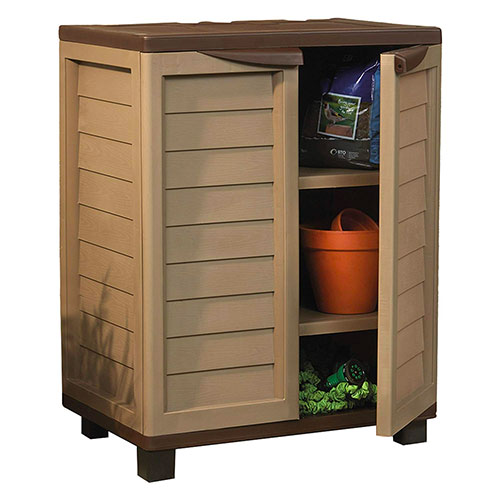 The next storage shed we have is from Clifford James and this is also easy to assemble, as it does not require complicated construction or tools. All the panelling simply slots easily into place. It features adjustable shelving on the interior which can be moved around easily to meet your own unique needs and requirements and the exterior is highly weatherproof. The lift-up lid that allows you access to the storage unit can be locked to increase the security you have for your possessions and equipment.
As it's not made from wood or metal, much like the other storage solutions we have featured in this post, it won't stain, peel or even rust in anyway so will always maintain it's good looks and just requires the occasional light washdown.
6. Keter Manor Outdoor Plastic Garden Storage Shed, Grey
The second-to-last item in our guide is also the last item from Keter. This outdoor storage solution is perfect for everything from garden and DIY tools to BBQs and other equipment. Thanks to its size, it's perfect for awkwardly long items and has a very traditional and sophisticated wood-effect exterior, so you get the look of timber without the maintenance issues. Its floor panelling has built in ventilation ducts that allow air to circulate freely and there is a padlock hasp, much like others in our guide, it can be kept safe and secure.
7. Habau Garden Cupboard Flat Roof
the last in our list is a very traditional storage shed made from pine timber with a flat roof. The front door to the shed can also be secured shut with a bolt and then further strengthened with the use of braces on the exterior. On the interior you will find three roomy shelves to the left side, which allows for taller and longer items to be stored to the right. There is an elongated bar that runs underneath the shelving to provide it with increased stability.
Conclusion
We selected the caravan storage sheds highlighted above because of their customer ratings, durable and sturdy construction and how easy they are to assemble. If you are looking for a hassle-free way to keep things on your caravan pitch, outside of your touring vehicle but inside and not just in your awning, any of these would suit your needs. The one you choose for your own touring outfit storage needs will depend greatly on your budget and the amount of things you actually have.