We all look forward to relaxing on our holidays, but the journey could easily get ugly if you get lost on your way there. Possible stressful obstacles include narrow lanes, town centres full of busy people and low-hanging bridges. To avoid getting lost or encountering these issues, it may be a sensible idea to invest in a sat nav for caravan towing. You will find that most notify you of the above issues, as well as providing a suitable route for your journey according to the height, width, weight and length of your vehicle.
There is a variety available on the market, including options specifically designed for caravans and motorhomes, as well as others that will work for caravans despite being not specifically designed for them. Fortunately, we have compiled a list of the best caravan sat navs to help you out and looked at them all for you. We hope you can use this list to help you know which one to buy so you can enjoy your caravanning holiday.
Best Caravan Sat Navs 2020 (Which Work For Motorhomes As Well)
1. Garmin Camper 770LMT-D 6.95-inch Sat Nav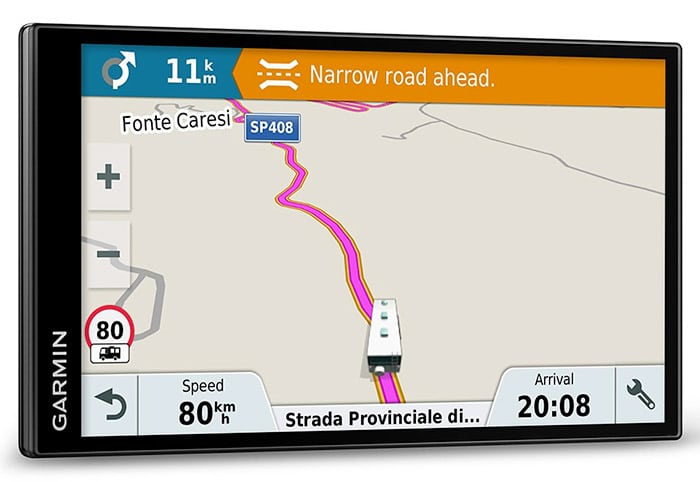 This sat nav has been specifically designed for caravan users, so you know you will be safe on the road with this gadget. No need to touch the screen due to the voice-activated and Bluetooth hands-free voice calling and notifications, such as real-time parking information, weather forecast updates, and TripAdvisor data. As well as this, you will be continuously updated on camper-specific road warnings and custom routing, specific to the size and weight of your caravan. All of this comes fast due to the built-in Wi-Fi that comes with the caravan.
Preloaded in this Garmin sat-nav are maps detailing all of Europe, which is over 45 different countries. Punch in the specifications of your caravan, and then, the sat nav will be able to find the best route for you while warning of hazards and caravan-related restrictions such as bridge heights, sharp curves and more to make sure you are 100% safe while getting to your caravan destination. As well as all of this, you can download the Smartphone Link app, which gives you weather forecasts and live parking information when you get closer to your destination. This app also enables the Live Track feature so your friends can track your location.
A directory of all more than 9000 campsites in Europe is also featured in this model, including different information on prices and hours of service, etc. Along with this, you can search by desirable facilities and features such as being pet-friendly, on-site shops, electric hook-ups and more, so you know you can get what you want while you are away from your home. For a high-quality product with just about enough features to make sure your journey is safe, relaxing and comfortable, you can't go wrong with the Garmin Camper 770LMT.
2. TomTom GO Camper Sat Nav

Have the perfect route planned throughout your trip and discover the best journey with winding coastal roads, mountain climbing or whatever you like with this TomTom camper sat nav. With the built-in Wi-Fi, you can get the latest maps and updates on the traffic even after you have started your journey so you can have your route expertly planned out to give you the best time on your trip possible. Points of interest are easily found by this sat nav, all specially selected for caravans and campers. All the world's best routes are built into the sat nav, and you can easily personalize them at home and relax for the remainder of your journey in your caravan.
With the TomTom My Drive, you can plan out routes, check out the live traffic, and save favourites from either your smartphone, your tablet or your PC. With over 113+ million points of interest built-in to the device and loads of special features to improve your caravan trip, the TomTom GO Camper Sat Nav is guaranteed to help you make sure that your journey is as good as it can possibly get.
3. Garmin 010-01535-01 Camper 660LMT-D Sat Nav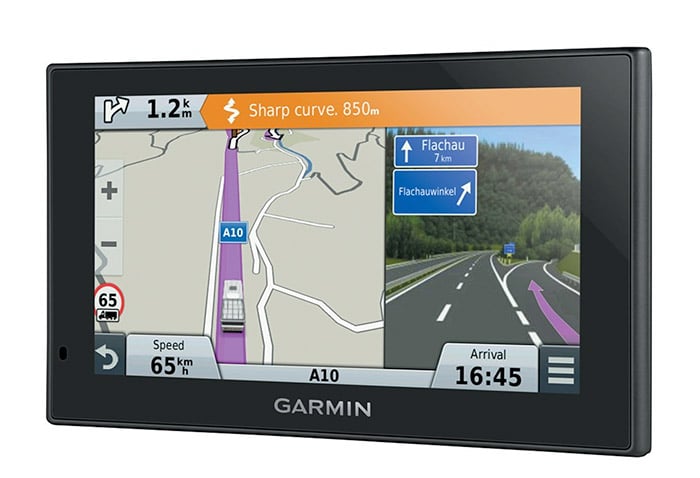 Just like our previous Garmin sat nav for caravan towing, this device is chock a block filled with features including a 6-inch pinch to zoom touchscreen display, planning out routes, included directory of campsites, route warnings regarding caravan-related hazards, lifetime map updates, and digital traffic alerts. Detailed maps of Europe are included in the sat nav, all of which include information on road restrictions, including bridge heights. You can easily type in the width, length, height and weight and then the best and most practical route across the continent will be determined for you, based on the information given and the data included in the maps.
A comprehensive list of all 9,000 campsites across Europe, including ones that are good with dogs and other animals and ones with electric hook-ups, and any other facilities that you can think of. As we mentioned previously in this article, this sat nav warns you of any restrictions related to caravans. These include bridge heights, sharp curves, and anything else you might experience on the roads and highways. You will receive aural and visual warnings about any caravan restrictions. Also, you have a map tool that gives you upcoming evaluation information that will concern you while you are on your route.
To dodge traffic jams, you receive updates regarding the traffic on your route. It is Bluetooth activated and completely hands-free, so you can focus your attention on driving. Truly, just like the previous one in our list from Garmin, this sat nav will enhance your experience while you are driving your caravan so you can have a great journey.
4. Aguri RV520 DVR 5″ Motorhome and Caravan Sat Nav

For our next option, we have the Aguri RV520 Caravan Sat Nav. Just like the other sat navs for caravans, this item has its own unique perks. The moment you take it out of the box, the Aguri RV520 DVR Sat Nav comes with multiple special features without you having to download anything. Over 30,000 caravan sites, campsites, and motorhome stopover locations are preloaded into this satellite navigation system and advanced visual warnings with regards to the next junction or big intersection. Along with this, text to speech voice alerts for extra safety while navigation includes the road name or number, so you can have a more relaxed journey.
A DVR dash cam with a 130-degree wide angle lens is built into it so you can prove what happened if there is an accident and protect your no claims bonus. Once you type in the height, weight, width and length of your caravan, you can receive warnings based on the dimensions of your caravan.
5. SAT NAV GPS Navigation System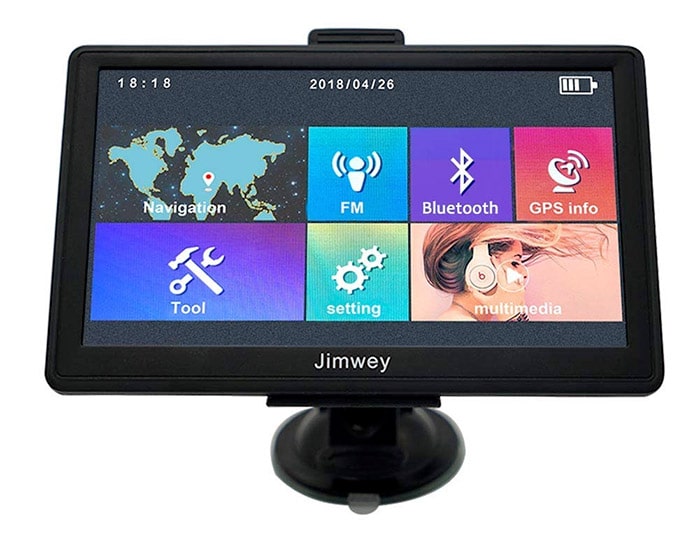 This next option is not a caravan sat nav, however, the device has a truck mode which could suit your caravan. On the Jimwey website, you can get free real-life updates about any of the 52 maps across Europe pre-installed into the sat nav, or the downloadable ones, which include USA, Canada, and Mexico. You can connect your phone to the sat nav via the Bluetooth so you can call your friends and family hands-free. It is even possible to synchronize your contacts to your sat nav so that you can call your contacts more conveniently.
Get continually updated with speed camera alerts, street names broadcasted, a speed and active lanes assistant, and estimated arrival time. Available in 40 languages, so you will likely be able to hear the updates in your own native tongue if English is not your first language. FM broadcast is supported (not to be confused with FM radio, but FM refers to the way of transferring GPS sound), along with an MP3 player, video player, pictures, an MP4 player, games and a pocket calculator.
Just touch the screen and it works, no stylus needed. If you need a sat nav for a car, van, bus, truck or caravan, taxi or bike, this sat nav is perfect for allowing you to have the safest and most enjoyable journey possible.
6. Snooper Ventura S6810 7-Inch Motorhome and Caravan Satellite Navigation System

The Snooper Ventura S6810 Caravan Sat Nav is a high-quality product from respected company Snooper. The seven-inch screen is crystal clear and large enough for you to see and a 3-watt speaker with enhanced audio means you can hear the map updates, including traffic updates. Type in the details of your caravan and routing will be tailor-made to suit your vehicle.
Mapping across Europe is detailed on a street level, and over 31,000 campsites are found across the continent. Compatible with Snooper's TPMS, Tyre Pilot, you can receive warnings with regards to your tyre pressure so you can make sure you are safe on your caravan trip. Overall the Snooper Ventura S6810 is a great sat nav full of special features bound to bring comfort to your caravan trip.
Buyers Guide
Using a sat nav in the car is a bit different than using one in your caravan or motorhome. When I am in the car I generally just stick my phone in the cup holder or on the dashboard and there's a good chance it takes me on a terrible route or I get stuck in traffic.
However, when you are towing a caravan you want to make sure you have the right sat nav that isn't going to send you under low bridges, down narrow roads or through a small town centre. You don't want to have to be reversing a caravan back up a lane or get it stuck in traffic.
Please take into consideration the following points before you make the big purchase.
Can you input the details of the vehicle
You will want to see if you can add the height and width of your motorhome or caravan. This is a very important feature as the sat nav will not have to guess which way to send you. It will know (if the maps are up to date) which way to route you.
As well as the height and width you will want to add the weight of your vehicle. This is essential for a lot of small or weak bridges. Some places only allow a 3.5-tonne weight limit and if you have a campervan full of custom made furniture, bikes etc this can add up.
Do you need it to work in Europe?
​Personally, we think you should get one with European maps. Caravan and motorhome owners are adventurous and you may decide to take a random adventure across Europe next year! For the extra cost, we think its an option you should have.
Free Lifetime map updates
Let's face it, roads in the UK are changing all the time. Be sure to look for one that includes free lifetime map updates. Also, what maps are they using? Is it Google maps or their own maps?
Software Updates
Check that it is easy to update the software. Some will allow you to connect via wifi which makes it easier than linking it up to a computer to update.
Dual Functionality as a reversing camera
Did you know some sat nav screens can be used as a reversing camera? Pretty fancy, right? If you are looking at buying one then this could save you money if it has this feature.
Screen Size
Personally I love a bigger sat nav and usually place it right in the middle of the dash and have it angled slightly towards me, but still angled enough so that my wife can see it as well. Getting lost and having arguments because I missed a turn off is not something I want on a holiday. Large screen sizes also make it easier to use the touchscreen which is never quite as good as an iPad or smartphone.
Final Thoughts
We hope this article has helped you find the best sat nav whether its a motorhome sat nav or for your caravan.