A trip to Disneyland has been on every family's holiday wish list since the European version opened near Paris in 1992 – and, with Disney owning Pixar, Marvel and Lucasfilm, it's set to get even more attractive (and crowded) in the next few years. An Avengers campus is being assembled for next year; Elsa's palace should rival Sleeping Beauty's when it opens as part of a Frozen land in 2023; and the Empire will strike back in 2024/25 with a series of Star Wars attractions. 
The park offers the perfect mix of fun and thrills for children of all ages (including mums and dads), but it is notoriously expensive, with the ability to snap away half the contents of your bank account faster than Thanos's Infinity Gauntlet. Staying at a caravan park near Disneyland Paris is a great way to cut the cost of a trip without compromising on enjoyment – and you'll have one of the world's most exciting cities on the doorstep. 
We've chosen five fabulous family-friendly campsites near Disneyland Paris, all within a half-hour drive of the theme park, and listed them in order of distance, from nearest to furthest.
HOW DO I MAKE THE MOST OF MY STAY?
If you're taking the ferry or Eurotunnel across to France, it's well worth staying for a week or more. Hardened Disneyland veterans advise allowing two or three days at the park so you can experience all the rides and get that all-important selfie with a Stormtrooper. You could spend a lifetime exploring Paris, and you're not far from Parc Astérix if you want to Getafix of another cartoon favourite. 
Many of the parks on this list are holiday resorts in their own rights, with loads of activities for the kids if you need a little down time. And cheese fans can stock up on brie from nearby Meaux or Coulommiers (maybe on the last day of the trip). 
If you don't want the hassle of parking at Disneyland Paris, most of the places on our list offer access by bus or RER train. And you definitely don't want to drive into the French capital, so we've listed public transport options for each park.
L'International de Jablines

Address: 77450 Jablines, Seine-et-Marne, France
Website: camping-jablines.com
Open March to October
You might have trouble dragging the kids away from this vast holiday park bordered by a bend in the River Marne – the 1,110-acre site includes wooded areas and lakes with sandy beaches, so you can top up your tan or enjoy sailing, canoeing, fishing or a pedalo ride. Tennis, riding and off-road cycling are also on offer, and there's even a waterski cable.
L'International de Jablines is about 20 minutes from Disneyland Paris by car, but you might be better off taking the daily shuttle bus to Marne-la-Vallée/Chessy station, which is near the park gates. It's also the end point for the A4 RER line into central Paris. Site facilities include WiFi, electric hook-up, showers, toilets, a laundry, a shop, restaurants and a playground; head to nearby Lagny-sur-Marne for shops, restaurants and the market on Wednesdays, Fridays and Sundays. Or order in pizza if you're too exhausted to cook.
Prices: from €38.20 a night for a family of four
Top tip: the park offers a dog-sitting service in summer if you're travelling with a four-legged friend. Be sure to check the new rules on vaccinations now Britain has left the EU
Camping Le Soleil de Crécy
Address: 77580 Crécy-la-Chapelle, Seine-et-Marne, France
Website: campinglesoleil.com
Open from March to October
Here's a magic kingdom for anyone seeking a bit of peace and quiet after a frantic day cramming in the attractions at Disneyland Paris or sightseeing in the city centre. Camping Le Soleil de Crécy is set in a forest on the banks of the Grand Morin river, and guests share the 15-acre site with red squirrels, foxes and owls. Yet it's only 20 minutes' drive from Mickey and co and a five-minute hop from medieval Crécy-la-Chapelle, a small town with supermarkets, boulangeries and brasseries. The 59 bus runs to Marne-la-Vallée/Chessy station, which is near the park gates and is the end point for the A4 RER line into central Paris.
The park is quiet, but not dead: it has two pools (one for young children), two play areas, a bar/restaurant and a summer activity programme that includes table tennis, volleyball, trampolining, pony rides and the classic French sport of pétanque. Facilities include electric hook-up, WiFi, showers, toilets and a laundry. If you're planning a celebration back home, or just love a glass of bubbly, the Champagne region is an hour's drive away.
Prices: from €31.20 a night for a family of four (under-13s free)
Top tip: book a stay here before May 1 and you'll get a 10% discount – handy for the Easter holidays.
Caravaning des 4 Vents
Address: 77610 Crèvecoeur-en-Brie, Seine-et-Marne, France
Website: caravaning-4vents.fr
Open from March to early November 
The French take family camping seriously, and this caravan park and holiday resort is no exception: it has an outdoor pool, beach volleyball and basketball courts, a playground and a games hall with table tennis and five-a-side football pitches. Pony rides are available in July and August, when the restaurant and on-site boulangerie are also open. 
The Caravaning des 4 Vents is set in rolling farmland, 25 minutes' drive from Disneyland Paris and half an hour from the Félins safari park, where you can see 30 species of big cat. There's free WiFi and dogs are welcome. Nearby Crèvecoeur-en-Brie is something of a no-horse town, but you're only 10 minutes from Marles-en-Brie, which has a supermarket and a station with trains to Paris. If you'd rather use the RER, head to Tournan, 15 minutes away.
Prices: from €44.44 a night for a family of four (under-5s free)
Top tip: if you just want to chill by the caravan, the pitches are enormous and there are hedges between each one, offering privacy and welcome summer shade
Camping de la Haute-Ile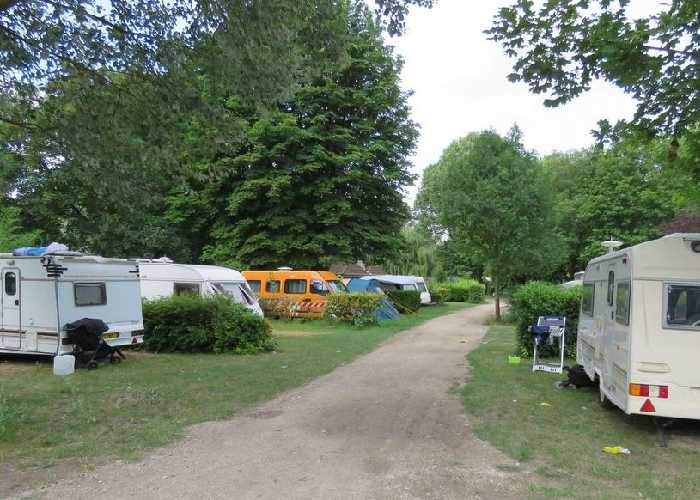 Address: 93330 Neuilly-sur-Marne, Val de Marne, France
Website: www.neuillysurmarne.fr/votre-ville/decouvrir-neuilly/camping-de-la-haute-ile
Open from June to September
If you're planning a trip to Disneyland Paris in high summer and don't want too many frills, Camping de la Haute-Ile could be the perfect choice. Run by the local council, it's on a small island in the River Marne, most of which is a nature park. You can walk or catch a bus to Neuilly-Plaisance RER station, 15 minutes from the city centre and 35 minutes from Marne-la-Vallée/Chessy station, near the Disneyland Paris gates. 
It's a half-hour drive to the theme park and 10 minutes to the Auchan supermarket in Neuilly-Plaisance, but once you're here, there's really no need to get behind the wheel. There's an outdoor pool, a playground and a restaurant on site, you can book canoeing or water-skiing on the river, and if you've brought bikes, there's a tiny beach in Parc Gournay, on the other bank of the Marne.
Prices: from €24.50 for a family of four (reduced prices for children aged 2-12)
Top tip: book a week and the price dips below €20 a night, leaving you more money to splash on Mickey memorabilia
Camping Paris Est
Address: 94500 Champigny-sur-Marne, Val de Marne, France
Website: paris-camping.fr
Open all year
Here's a caravan park for urban adventurers: Camping Paris Est is a riverside site in Champigny-sur-Marne, a Parisian suburb within walking distance of Joinville-le-Pont RER station. From there, it's an 18-minute ride to the city centre and eight minutes to Vincennes station for trains to Marne-la-Vallée/Chessy, near the gates of Disneyland Paris. If you're taking the car, it's a half-hour drive to the theme park.
Camping Paris Est can't match its rivals in the countryside for outdoor activities, and the pitches here aren't the biggest, but the toilets and showers are newly renovated, and the site has a gym, a playground, table tennis and WiFi. You can walk to Parc Tremblay or the beautiful Bois de Vincennes if you need open spaces for the kids to roam in. There's a bowling alley nearby and Joinville has plenty of shops and restaurants. Hire bikes for a ride along the River Marne or explore Paris on two wheels (bikes are allowed on the RER outside peak hours).
Prices: from €41.50 a night for a family of four
Top tip: for a taste of old-time Paris, head to Chez Gegène, on the waterfront. Established before the First World War, it's a guinguette – an open-air restaurant like the one Renoir immortalised in his painting Luncheon of the Boating Party