Can you hire a touring caravan? Yes, you can. 
Before we get into the whys and wherefores of hiring a caravan, let's back up a little and ask why would you want to hire a touring caravan? Is it expensive? Is it better to hire a touring caravan or rent a static van?
We will take care of these questions and more in this article.
So let's take a thorough analysis into the pluses and minuses (if there are any), of hiring a touring caravan.
Why Hire A Touring Caravan?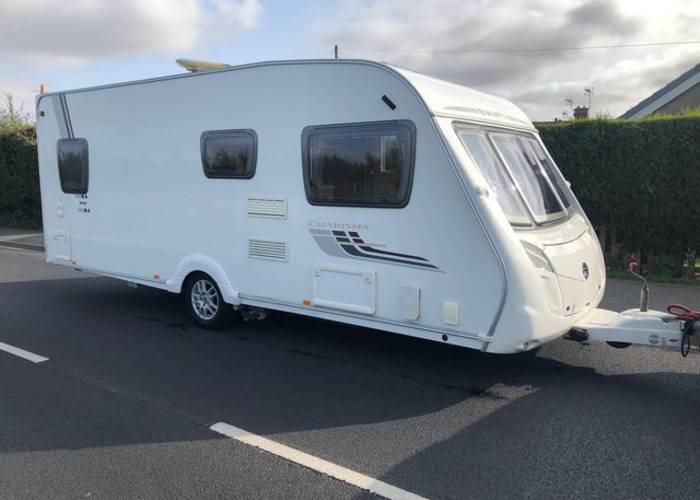 One of the major reasons to hire is because you're already a touring caravan owner, but yours is off the road for maintenance reasons, or perhaps you're in-between vans at the moment. The timing is dreadful because it's your annual summer holidays and you have no van. No need to disappoint the family, you can hire.
Another reason is, you want to try before you buy. Makes sense. I know several people that thought touring in a caravan was for them until they bought their van and took off for their first holiday. Asking them how their first holiday in a caravan went, the answers ranged from "never again" to something unrepeatable in this article. I think I heard the word 'divorce' a few times.
There are a few other reasons for hiring rather than buying, for example:
 You want to stay on-site while you build your new house, or have an older one renovated.

 You're hosting some big event (marriage) you're having a lot of guests, but the main house cannot accommodate them all. So a caravan or two on the drive seems like an excellent solution.
A new building site requiring a temporary security office
What's The Cost Of Hiring A Touring Caravan?
We have to look at many options when we talk about costs. To begin with, let's breakdown the hire of the caravan itself. This is going to be the biggest expenditure.
There are seasons and size of the caravan. Low, mid and high season. Then the size of the caravan broken down by how many berths. Two, four and six berth caravans.
If we took a 2-berth caravan in low season, the rent might be somewhere around £250 per week, rising to £695 per week, for a 6-berth in the high season. These figures are only guidelines. Where you hire the caravan, the quality of fixtures and fittings, all need taking into account.
Now that's the biggest cost, but what other costs might there be. 
Well, much like the hire of a car, there is the insurance and the excess on the insurance, depending on what you opt for. You must have insurance, the hiring company will not let you take their caravan off the premises with no insurance.
Insurance will cover the caravan's fixtures and fittings and any damage to the van and 3rd party liability. The insurance will usually carry an excess. This is money you will need to pay upfront, in case of damage to the caravan. 
Normally, the hiring company will take the excess payment with the hire cost. When you return the caravan, assuming everything is as it should be, they will refund your excess. We have seen excesses range from £250 up to £1300. It's a definite cost that needs factoring in.
Some hire companies will organise a delivery service for you. There is a charge for this. The company will deliver the van to a park you specify, within their delivery radius, and set up everything for you. They can arrange this in your presence or before you get there. 
This can be useful if this is your first time using a touring caravan. You might spend a few nights there before while building your confidence to strike out on your own.
Conversely, you might collect the caravan from their premises, if you choose that option.
One more cost is the rent you will pay for each night you park your caravan. This varies a great deal. When you plan the routes you're going to take, this will be a big part of your plans. Parks can vary from a field up to a mini village, with full shower blocks, clubhouses, nightly entertainment, supermarket, you name it and it will be available from some parks. It's obvious you will pay a lot more to stay in those parks than a field.
How Does Hiring A Touring Caravan Compare To Staying In A Static Caravan
When people think of 'caravan' they usually associate it with a car towing a caravan behind it. A static van remains in one place after they have delivered it. The owner can move the static van to a new location if the owner wishes it. But in this discussion, we refer to a static van as always being in one place.
The static van, being larger and stationary, means the owners can fit it out, in a more luxurious fashion, with more built-in appliances and free-standing furniture.
The advantage of owning a touring caravan is the freedom to choose. Stay in one spot or a new one every night. Take it overseas to Europe if you wanted to visit new countries. The choice is yours, the options, many.
Trying to give a definitive cost is impossible because there are so many variables. But what we can do is list some advantages to both.
 Touring
 As mentioned, freedom of choice, freedom of movement.

 Choice of stay in the UK or visit new countries.

 There's more flexibility with a touring caravan.
Static
 No fuel costs involved. Position it once and never need to move it again. 

 Storage space. It's more like a permanent second home. You can leave items you always need in your static van.

 More luxurious and better fixtures and fittings.

 MOT testing, touring caravans require a certificate of roadworthiness, static vans do not.

 Can be double glazed and fitted with better heating.
Conclusion
If you hire a touring caravan, make sure you check on the level of support the hiring company offers. For example, if you broke down, how will they deal with you. 
Will they send a replacement caravan? Are you expected to lose valuable holiday time, dealing with the problems yourself?