Skegness. Just saying the name, or its nickname of SkegVegas will either cause people to smile uncontrollably as they recall with fondness family holidays they had there or in a grimace because of really bad holidays they had there. For the most part, though, the former is more common. Skegness is famous for its beautiful coastline consisting of some large and expansive sandy beaches, fish 'n' chip shops and lots (and we mean lots) of holiday parks.
For many people from around the country, it was and still is, the holiday location of choice. As it was the closest beach for many parts of the eastern side of the Midlands, it has always been ideal for those lazy days out to the beach. You know the type when you've got nothing else on and decide to head out there. So, whether you are heading to Skegness and Lincolnshire for the day, a week or even longer, you are not going to be disappointed. Why?
Why is Skegness So Popular?
There are lots of reasons why like so many seaside towns and areas up and down the country. Aside from being a beautiful coastal town with lots of seaside-based amusements, chippies and beaches, one of the things that draw people to Skeggy is the fact that holidays there, particularly in caravan parks, are less expensive than other popular coastal areas like Devon and Cornwall.
The problem is that although there are many caravan parks in Skegness, they vary greatly in terms of facilities, location, and even the quality and prices. If you are looking to find the best of the best of the various Skegness caravan parks, it will require a lot of time and effort. Time and effort, you may not have to spend. That's where we come in.
At Caravan Helper, we've done a lot of the heavy lifting and hard work for you and researched various caravan sites in Skegness and caravan parks near Skegness. After much deliberation, we've put together a shortlist of what we consider to be the best 5 below.
Some Caravan Parks To Choose From
The Chase Caravan Park
Address: Ingoldmells, Nr Skegness, Lincolnshire 
Website: https://www.hoseasons.co.uk/holiday-parks/the-chase-holiday-park-chas
There are various reasons why we singled out The Chase Caravan Park as one of our favourites in the wider Skegness and Lincolnshire area. For one thing, it is extremely quiet and perfect for people who are not looking for an all-singing, all-dancing affair and who just want a clean and basic park to use as a starting point for their Lincolnshire adventure.
As a result of it being so basic, it is also incredibly cheap. For the competitive price, you get access to a park based in the beautiful Ingoldmells, a friendly park whose facilities are modern, even if they are a little on the basic side. However, the fact that it is so close, around 4 miles to be more precise, to the nearest golden sandy beach, with its lively and fun promenade.
That's not all though, as there is also the biggest indoor and outdoor market in Europe that's opened 7 days of the week. If nature and history are more your thing or you have children to entertain, the Lincolnshire Wolds, Lincoln city centre and the action-packed Fantasy Island Theme Park are ideal.
Even if you don't envision staying at the park for any great length of time (after all, there's no indoor or outdoor pool), there are still some nice features and facilities such as the on-site shop, indoor and outdoor play areas, Woody's restaurant and bar and family entertainment.
Southview Leisure Park
Address: Skegness, Lincolnshire
Website: http://www.hoseasons.co.uk/holiday-parks/southview-leisure-park-psvi
Next, we have the beautiful and much livelier holiday park at Southview, just on the edge of Skeggy and only a short distance away from some stunning beaches. Unlike the above, Southview Leisure Park is a full-on holiday destination with an almost bottomless supply of entertainment and amazing facilities. Crucially, if you happen to head to the Lincolnshire coast when there's a constant downpour, the indoor pool is the perfect way to put the misery of the elements out of sight, out of mind. There is even a cool flume for your kids to hurtle down at great speeds.
When you are not lazing or swimming lengths in the pool, there is also a 9-hole golf course, multi-sports area and fully equipped gym and sauna. In order words, something for everyone. Whatever your sporting discipline is or if you are a jack-of-all-trades when it comes to physical activity, you really are spoiled for choice. The Boathouse is a bar and restaurant that serves hot and tasty meals, whereas there is also takeaway you can bring back to your caravan.
If you fancy venturing out of the park, though, the local Lincolnshire area and Skegness has so much on offer. From Fantasy Island to all the hallmarks of an authentic and traditional British seaside holiday.
Eastview Caravans, Camping and Touring Caravan Park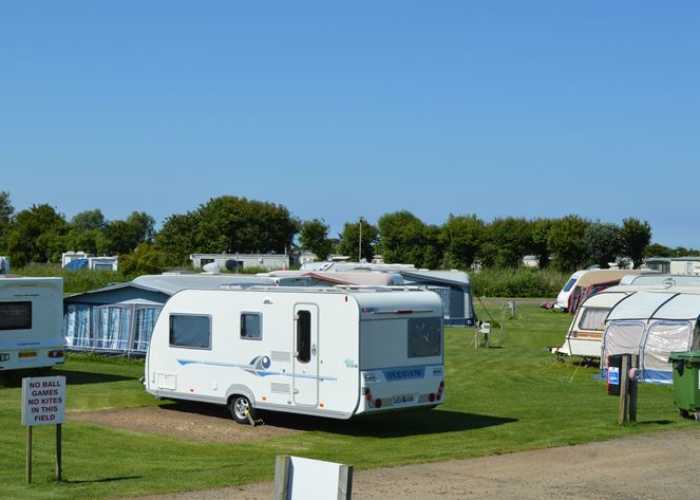 Address: Chapel St. Leonards, Lincolnshire
Website: https://www.eastviewcaravans.co.uk
Next up of the best holiday parks near the ever-popular Skegness is Eastview Caravan Park and Campsite. This is a four-star holiday location, based in Chapel St. Leonards on the east coast of Lincolnshire. Although it is still relatively new, having only been set up in 2006, it has come along leaps and bounds and has an enviable reputation.
Similarly, to The Chase Caravan Park, we mentioned at the top of our guide, this resort is aimed more squarely at tourers, though there are some statics on-site too. Because of this, it is not exactly packed to the rafters with special features and facilities. Why has it been given a mention here then?
It's mainly due to the fact it scores highly on review sites based and is ideally located offering access to all the key places in the area. So, whether you are looking to visit Skegness, Mablethorpe or another seaside city and town along the Lincolnshire coast, Eastview is the best starting point.
Golden Palm Resort
Address: Chapel St Leonards, Skegness, Lincolnshire
Website: https://www.hoseasons.co.uk/holiday-parks/golden-palm-resort-palm
Okay, this is another based not exactly in Skegness but further out from the iconic town in Chapel St Leonards. It has a suitably big and bold name in Golden Palm Resort. A name that the holiday park definitely lives up to when you consider the various features and facilities you can avail yourself of here.
First and foremost, it's important to mention the fact that there is a heated indoor pool, which is perfect for all ages, though the kids will especially love the splash zone and waterslides. There is also crazy golf and a comprehensive multi-discipline sports area. Basically, whether you like batting, kicking or punching a ball or prefer tackling a series of lengths or breadths, there is a multitude of sporting activities you can enjoy.
For the kids, there is not just the outdoor and indoor play areas, but at certain times throughout the year there is the fun-filled club and when you all want to a bit of entertainment, there is the 2,000-seater Club Tropicana, a venue equipped with air conditioning to make all those hot evenings more bearable.
Food, drinks, and snacks are served at the Maid Marion pub, while there is also a takeaway when you just want to get a bit of peace and sit in your jammies eating fish and chips or a tasty, succulent burger.
Want to venture out of the park? The Chapel St Leonards beach is only 3-miles away and one of the most beautiful in the area. Although the reviews for this place are basically better than average, the next holiday park is probably the one we would recommend above all others, if you are looking for the very best value for your holiday investment.
Richmond Holiday Centre
Address: Skegness, Lincolnshire
Website: https://www.hoseasons.co.uk/holiday-parks/richmond-holiday-centre-rhol
Where do we start describing just what makes Richmond Holiday Centre heads and shoulders above the rest? Location, location, location is often what real estate agents and Phil Spencer and Kirsty Allsopp bang on about when it comes to buying a property. At Caravan Helper, we think it is just as important a principle when looking for a suitable holiday destination.
You either want a holiday park that has so much to offer you that you won't even dare to look outside its perimeter or one that may or may not have the features and facilities but is ideally situated so that it makes for a great starting point for your adventures.
You get a little of column a and a little of column b with Richmond Holiday Centre. There are a wide variety of excellent facilities, such as the indoor swimming pool (it's often a deal-breaker for some people that the onsite pool at a park is heated – this one is), along with many of the usual ingredients for a fine holiday resort.
You know what we mean – a children's play area, amusements, bars and restaurants, sauna and spa and a ball-court designed to be played on in all weather conditions.
As we noted, this is really a site of two halves. There are the all-inclusive-style holiday resort and the stopping ground that you can use as a starting and finishing point for your Lincolnshire and Skegness holiday.
Whatever works best for you, Richmond Leisure Centre can meet your unique needs and requirements.
Okay, so it may not be quite on the seafront, but the fact that it only 20 to 25 minutes away from the promenade and pier, means there isn't really much to complain about.
Well, there you have it guys. If you are intending on Skegness being the location of your next coastal adventure in your touring caravan, look no further than the 5 great holiday parks we've highlighted above. We guarantee that they all individually offering something for everyone, and you are not going to be disappointed.