A cool box for use in the caravan is not only ideal if you don't have a fridge installed, but it also doubles up for use in the awning, the car, and when out and about on trips and picnics.
You may find that some people choose to forgo a fridge in their caravan. This is particularly more common for those who are the less frequent of caravanners and perhaps don't see the need to commit to something they don't feel they'll use regularly.
However, despite the amount of time you devote to caravanning, there aren't many of us who can really manage without the odd pint of milk and a selection of drinks and snacks that need keeping cool.
Furthermore, when you pitch up and head out for a day away from the van, there's nothing worse than warm drinks and soggy sarnies when you finally stop for a much-needed rest and a bite to eat!
Therefore, a cool box is the perfect cheaper solution and one which will not take up too much space in your caravan.
How Does a 12v Cool Box Work?
A 12v powered cool box is an ideal solution when caravanning as it allows you to simply power it up to the mains.
Though it will not work to actively cool your food, what it does do is keep it fresh for longer than say a passive (standard) coolbox would do with freezer packs.
Therefore, a 12v electric cool box is the better of choices for choosing over a more extended period as they will do the job required of them for as long as they are plugged in.
What Is the Best 12v Cool Box?
With a wide variety of these product types on the market, here we have chosen a selection of no less than five of the best models currently retailing on Amazon.
You may notice that four out of five of these models all offer a brilliant combination of not just cooling abilities, but an added warming function as well.
Therefore, if you really want to make the best of your purchase, by selecting a combined model, not only will you be able to keep your food and drinks fresh –   you'll also be able to keep cooked food warm for a couple of hours after making it.
This is a great feature which we believe really enhances the abilities of such products like these and effectively offers you two functions for the price of one!
1. Large 25L 12v Portable Cool Box from Tibek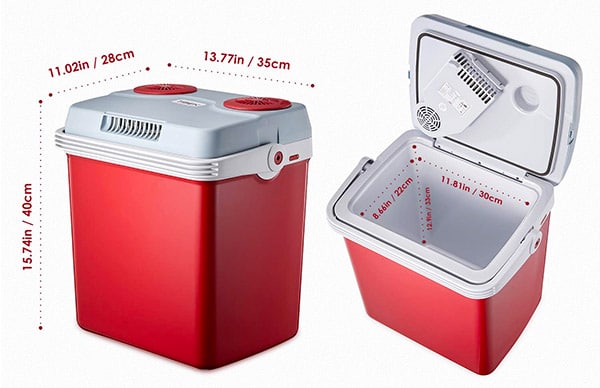 One of Amazon's best sellers in the Car Refrigerators section, the Tibek 12v Cool Box is not only available in two vibrant colours but also offers an energy class rating of A++, making it a fantastic choice for caravanning purposes and beyond!
Once again, this is both an electric cooler and a warmer – which means it's ideal for multiple uses and indeed all-year-round use.
Keeping your food fresh, it's maximum cooling temperature is at 19°C lower than outside temperatures.
Additionally, when warming your food, it will do so at the 60°C mark, therefore ensuring your food will not cool down fast should you be travelling.
A dual voltage model, this coolbox has a two-power input range so you can plug into it a main or a 12-volt power socket. 
At 25 litres capacity, Tibek state this offers just the right amount of room to store all the essential food and drink you may need to hand, as well as doing so at a lighter weight overall. At just 4.04kg, it's claimed to be lighter than other models on the market and therefore makes it the perfect accessory for travelling around with.
What's more, this coolbox is an incredibly power efficient one, with an energy level rating of A++, therefore not only saving you energy but also money! When your food has reached the desired temperature, you can then select the ECO mode here.
2. Large 30L 12v Portable Cool Box from Marko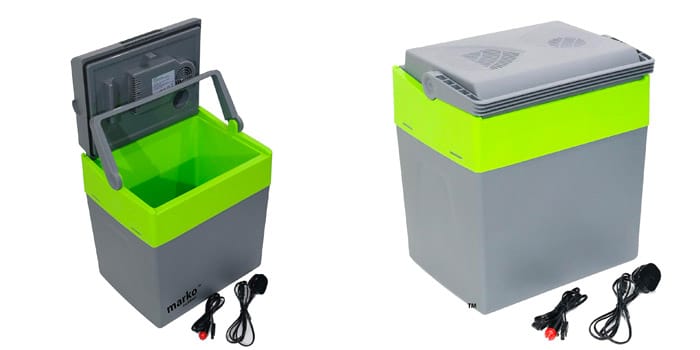 The Marko 12v Coolbox is a simplistic looking model, but one which offers a great deal of space in its 30 Litres, as well as both a cool and warm function choice in operation!
With both plugs and leads included, this is powered by 240v AC and 12v DC.
Featuring red and green indicator lights, these work to inform you throughout of its hot or cold status.
When using the cooler aspect of this box, you can expect a cooling capacity of 15 to 18°C, below the ambient temperature. Then, when utilising the warming features of the box, you'll be able to select a thermostat of 50 to 65°C.
With an excellent CFC free and solid polyurethane foam lining, this box choice is also equipped with a longer life brushless motor, with claims of a running time total of 30,000 hours.
3. Large 25L 12v Portable Cool Box from Andes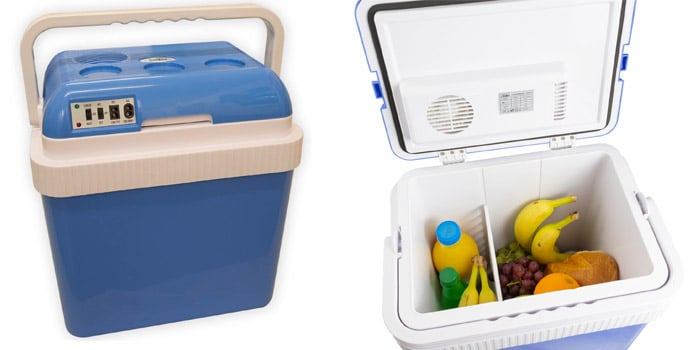 It may be one of the cheapest models on the list here, but the Andes 12v Cool Box still offers a most practical choice through its cooler and heater functions!
The genuine Andes branded product; this is claimed to be a high-quality camping model but at a great low price all-round. It also offers a useful 25 Litres in its overall capacity.
With the ability to keep food cool and fresh throughout use, you can also utilize the heating aspect of this model and get around two hours' worth of warmth to a total of 65°C.
This dual aspect makes it the perfect companion for both picnicking and indeed travelling in the caravan with.
Sold with a 220 to 240v AC mains adaptor plus a 12v DC car adaptor, this is a more lightweight of designs, but one which is equally robust in construction.
There's also a swing carry handle for ease of use as well as three cup holders located on the top of the box.
But, furthermore, inside this cool box, you can access a removable divider – thereby keeping certain foods and drinks separate where needed.
4. Large 29L 12v Portable Cool Box from Jacksons

Always on the lookout for additional choices when charging appliances, we've included the Waeco/Mobicool model here as this claims to offer a USB connection for charging as well!
Therefore, this cool box allows you to take your phones and other small electronic gadgets out and about with you and charge them at the same time.
With the capacity to hold up to 29 Litres overall, this also works on the usual 230v AC and 12v DC.
Offering high-quality insulation foam as standard, though this model may not combine cooling and warming features, it does provide users with a host of other benefits.
These include a convenient carrying handle system which you can select to fit to the lid or support the lid. There's also a cable compartment base in the lid and even a double fan system.
Jacksons state that you can fit two-litre standing bottles into this cool box with ease.
Its power consumption on DC is 47 watts, and the maximum cooling below ambient temperature is 18°C.
Final Thoughts on the Best 12v Coolboxes
Whether it's the best cool box 12v that you want to replace your fridge in the caravan with, or merely a cheap 12v cool box to take with you and use on the odd occasion, we've hopefully shown you a price range to suit every pocket here.
As you can see from the models above, these aren't only great products that keep your food at a cool level, but additionally, many of them can double up as a warmer. So, you effectively get two devices in one – and for the price of just one!
No longer do you need to lug those awkwardly designed cool bags and standard coolboxes along, as well as numerous ice packs, each time you travel in your caravan.
After some more 12v products? Have a look at some 12v hair straighteners here.