Put simply, a 13-pin trailer plug is a must if you are towing a caravan, boat or trailer. It provides you with all the lighting necessities you need from your vehicle to the caravan, including braking lights, indicators and running lights, as well as a reversing light which is very important when towing.
The plug may also provide power for the internal electrics, such as your permanent power feed and your fridge, and is the easiest way to ensure power when towing.
You will find a 13 pin connector mounted on your tow bar, which should be connected to the relevant sources within the caravan or trailer, and all you need to do is link up and you're ready to do.
So, which one should you buy? To be fair, this is a device that is designed to do a specific job, so the many you can choose from will all do the same thing. We took a look at a few that we believe to be viable options, so let's have a closer look at them.
Some Choices
1. 13-Pin Euro Towing Plug

The basics are all here with this entirely standard 13-pin trailer plug, which is made from durable plastic and is very cheap indeed at around a fiver or a touch more. It meets all the industry standards for European and UK caravans from 2009, and for most cars from the date onwards. What we like about this one is the screw terminals, which allows for replacement of broken plugs rather than having to buy an entire new unit.
This one is ideal for a caravan, and can be used to convert twin towing plugs into one more convenient 13-pin plug, and comes with inlets for 12N and 12S 7-pin wires so should be pretty much universal. Make note that this is an unbranded product – that's partly why the price is so low – but many users have commented on its effectiveness and value for money, and with no complaints about it at all.
Key Features:
Standard 13 pin towing plug
Replaceable screw terminals
2009-on caravan and car compatible
Great price
Customer satisfaction
2. Ouway 7-pin to 13-pin Convertor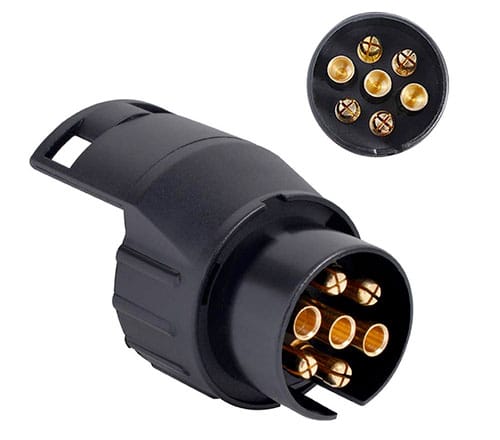 This device is a convertor for use if your car has a standard 7-pin outlet. All you do is plug the 7-pin into the car, and you have a 13-pin female outlet on the other side, into which you can plug the cables from your caravan or trailer. It's made from durable plastic with strong rubber seals, and is cheap enough at not much more than a fiver. It's also popular, with a lot of satisfied users.
It meets European standards – as would be expected – and is a surprisingly compact device, and it does the job it's designed for – or does it? Quite a number of users, while saying it does a decent job, also comment that not all the lighting systems worked with this one. The most commonly reported problem was that of the reversing lights not operating, which is something to take note of.
Key Features:
Compact
7-13 pin convertor
Cheap
Plastic
Rubber seals
Some complaints about reversing lights not working
3. Anpro Waterproof 13 to 7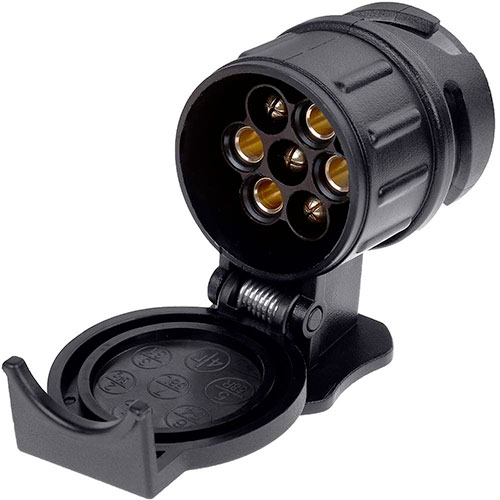 While the product we have linked to is a 13 pin to 7 pin converter, this one can also be purchased the other way around, and both are similar prices to those above – not much more than £5. It's up to the buyer to decide which is more convenient – both are compact and made from durable plastic with seals (including a weatherproof cap) and both meet European standards. In fact, the sprung protective cap may be a winner here.
So, does this one work, or are there significant problems highlighted by buyers? We have to say that this product meets with almost unanimous customer praise, with the only complaints being from people who appeared to have been sent the wrong product – a 7 pin to 7 pin socket – but overall, we like this one and it should go on your shortlist.
Key Features:
7-pin to 13-pin convertor, or vice-versa
Cheap
Sprung protective cap
Durable construction
Great customer satisfaction 
4. Waterproof Towing Bar Socket

This is one for if you want to convert a standard 13-pin to a 7-pin, and is the reverse model of the Ouway branded one above. It's exactly the same, apart from the reverse exchange. It's made from durable plastic with strong rubber seals, and is cheap enough at about a fiver. It's also popular, with a lot of satisfied users.
It meets European standards – as would be expected – and is a surprisingly compact device, and it does the job it's designed for – or does it? We'll keep it simple; according to a large amount of users it does the trick, lights everything it should, and is a great price for what it is, so if you need this conversion, it's for you.
Key Features:
Compact
13-7 pin convertor
Cheap
Plastic
Rubber seals
5. Dawa 2-in-1 Adapter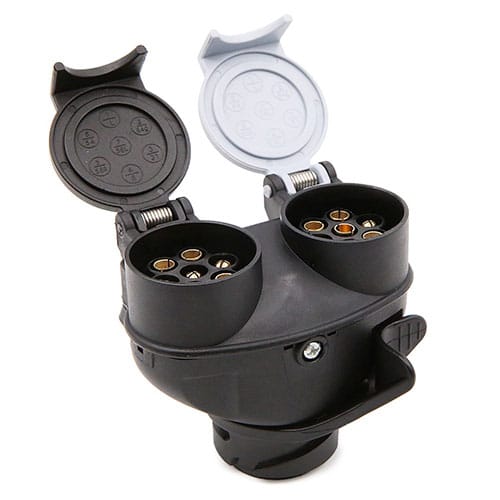 This one is a bit different to the others. It's a two in one model, and by that we mean you have a single 13-pin plug – designed to fit the cars 13-pin output – which then converts into two 7-pin outlets, which you use to take power to the caravan. This one could be useful as a split adapter if you have a caravan with a permanent pitch and a tourer visiting, or for use with a caravan and boat combination.
It's double the price of the others as you get double the function, and is made from durable plastic with protective flaps to keep the rain out. We like it, as do many customers, who comment on its value, adaptability, and the fact it does the job well. It's certainly one for a shortlist if it does what you need.
Key Features:
Double convertor
Cheap price
Durable plastic
Protective caps
So, that's our selection of 13-pin trailer plugs for you, but is there one that stands out? In truth, it's difficult to single one out as that will depend on your individual requirements. What we will conclude with is this: all of those on this list do the job they are designed for, are sensibly priced, and are rated highly by users, so look for the one that offers the conversion you need, and that's the one for you!