There are so many things you can quickly take for granted when you are not on the road and within the comfortable setting of your own home. For example, the handiness of having a kettle, oven, shower and washing machine that you can use with no hassle or worries about the effect it'll have on your electricity supply. The same could be said too of appliances and accessories such as hair dryers. What do you do when you've washed your hair when you're finished in the shower or bath? You undoubtedly head to your bedroom, switch on the hair dryer and hey presto, depending on how thick and long your hair is, within minutes you've got stylish and dry locks and are ready for action.
While you are on the road though, things are not nearly that easy. It's when you've just had a shower and try to dry your hair either using just towels or that hairy dryer (12v hair straighteners also available here) you took from home that you run into problems. Those problems could be something as serious and embarrassing as shorting the electrics in your caravan or the electric hook-up at the caravan park or site you're staying at.
That's why, and if you've read some of our other posts, you'll probably be already aware of this, that you can't just use the same appliances and accessories that you use at home while you are staying in your caravan. That includes that powerful and fancy hair dryer. You need to make some compromises by investing in a 12-volt model.
If you're new to caravanning and just learning about this stuff or don't want to spend hours looking at a multitude of Google and Amazon search results, we don't blame you. Don't worry though, as that's why we've put this post together. We've done all the hard work for you and have collected together the 12 hair dryers we think you should consider investing in.
It's important to understand though, that 12v hair dryers, like many other appliances and equipment designed for camping and caravanning, are not going to give you the same user experience as the one you have at home.
12v Hair Dryers (Some Choices)
Brunner Monsun 12v Hair Dryer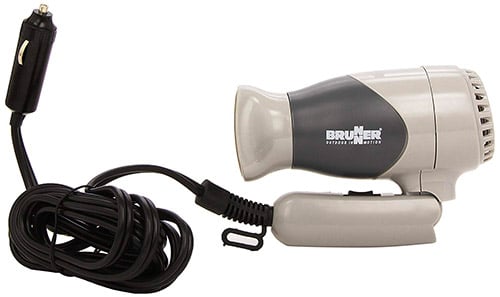 Brunner is a well-known and long-running company that's one of the leading names in the Italian leisure accessories market. With the Monsun, they've made this surprisingly powerful and effective 12v camping hair dryer that's ideal for caravanning. Constructed from a durable plastic and featuring an on and off switch and handle that folds away making it more compact and receives its power via the handy cigarette lighter-style plug.
Streetwize 12v Hair Dryer 12v Straighteners Pack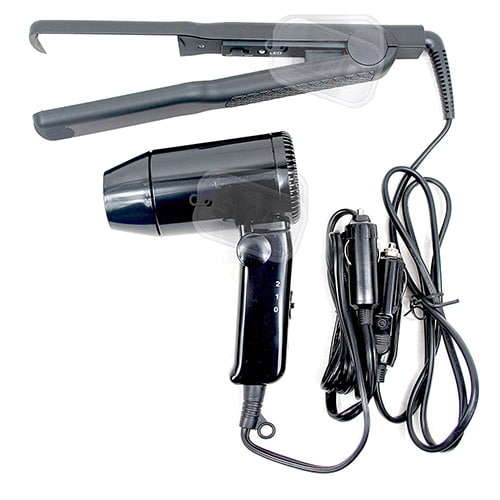 Next up we have another 12v hair dryer for caravan use from a highly-regarded brand. Streetwize have been featured in many of our posts here at Caravan Helper, thanks to their user-friendly and cost-effective designs. One of the things we particularly like about this pack is that it not only has a hair dryer, but also a straightener for the same price as one or the other of these useful products.
Now, we're not going to lie to you, there's not a lot you should really expect from either the hair dryer or straighteners for the price they retail. However, if you've not got especially thick or long hair or just need something that will help remove some of the wet from your hair, the dryer will perform well enough. According to many of the customers who've left reviews, the straighteners are the better appliance in this package.
Both are powered using the 12v cigarette lighter socket ion your car and feature 1.2-metre cables, while the hair dryer is designed with a foldable handle for easier storage and 2 speed settings.
Boyz Toyz 12v Hair Dryer
Another fully-functioning hair dryer designed for caravan and camping use is this model from a company called Boyz Toyz. With the standard 12v cigarette lighter socket plug, it also benefits from a foldable handle that means it will never take up too much space in your storage when you're on the road.
Notably, this does not just have an on and off switch but offers some variety when it comes to its performance. There's 2 speed and 2 temperature settings to choose from. Given the name of the brand, it's safe to say that this is marketed more towards the younger members of your caravanning party/family.
Lembeauty 12v Compact Folding Hair Dryer
Based on the customer reviews and rating, the next model from Lembeauty is the best 12v hair dryer in our selection. Much like the others, it's designed to connect to the 12v cigarette lighter socket in your car or another 12v power supply and comes with a 1.2-metre cable. Like its contemporaries it also has a folding handle for compact and easy storage.
We really like it's black and sleek design though and with overheat protection and both 2 speed settings and 2 temperature settings, it offers a reliable and versatile solution to drying your hair. It can, if necessary, also be used to defrost your car or your caravan, but we're not sure how effective it would be for something more intensive than a thin sheet of ice or frosting.
Fancylande Car Hair Dryer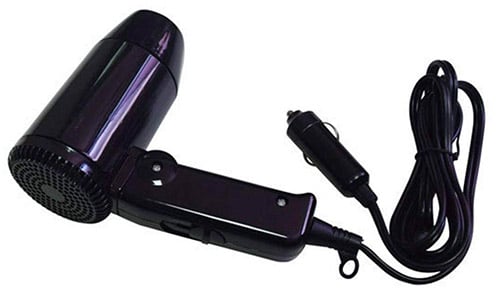 The last 12v hair dryer UK we have to discuss is this smart little option from a brand we've never heard of before called Fancylande. As you'd imagine, aside from its sexy black colouring, there's nothing especially fancy about this hair dryer. It can be used with the cigarette lighter socket in your car or another similar power source, features dual speed and dual temperature settings and has 1.2-metres of cabling.
This was the only model in our list that we were unable to find out what customers thought about it.
Final Thoughts
Even the smallest bit of luxury from a not-too-powerful hair dryer could make all the difference to your experience on the road. Sure, it's never going to match your full power model back at home, but if it helps to dry your hair slightly quicker than it would take if you were just using a towel to do, then it's worth it, is it not?
We hope therefore, that if you do decide to invest in one that you find the right 12v hair dryer from the choices we've listed above. If you're looking for other low voltage appliances suitable for on-the-road, be sure to check out our posts about the best caravan TVs, toasters, kettles and microwaves.